Rainbow chard's vibrant orange, red and magenta stems are too pretty to toss into the compost. They have a crunchy texture similar to celery and add a colorful confetti-like cheer to this speedy saute. Serve as a side dish with, well, just about anything (it's especially tasty with our Spiced Pork Roast) or toss with hot pasta and goat cheese for meatless entree.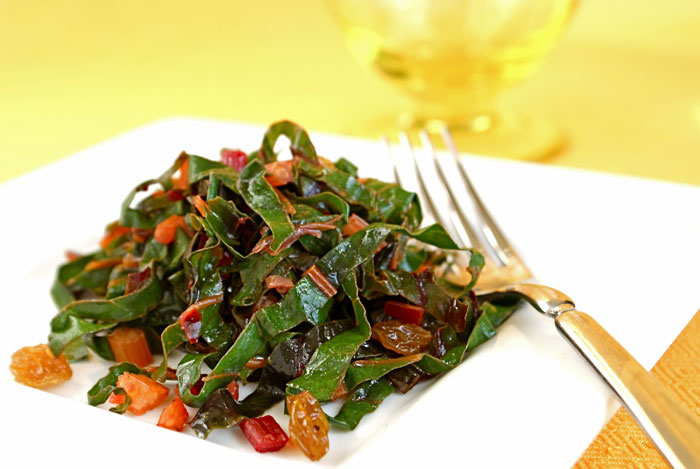 1 (12-ounce) bunch rainbow chard, leaves zipped, cleaned and dried (stems reserved)
1 tablespoon olive oil
1/4 cup minced shallot
1 garlic clove, minced
Sea salt, to taste
1/4 teaspoon cracked red pepper
Freshly ground black pepper, to taste
1/2 lemon
1/4 cup golden raisins
Finely chop the chard stems and set aside. Stack 2-3 leaves and roll them up into a tight cylinder (it will look like a bit like a chard cigar). Cut into 1/8-inch slices. Repeat with remaining leaves. (This makes a pretty presentation, but if you're in a hurry, you can just coarsely chop.)
Heat a large saute pan over medium-high heat. Add oil. Add shallot and chopped chard stems. Sprinkle with salt and saute 1-2 minutes or until shallot is tender. Add garlic; saute 30 seconds or until fragrant. Add half of sliced chard leaves, saute 1 minute or until wilted. Add remaining chard leaves, and saute 1 minute more. Add cracked red pepper, salt and black pepper; Squeeze juice of 1/2 lemon into pan; add raisins. Saute 1 minute or until raisins are hot.
Serves 4