By Kurt Michael Friese
I may have been the first in my family to "go pro" becoming a chef, but my life has always revolved around food. Growing up, the conversation over Saturday lunch was inevitably about what was for dinner – who was making what, where it would be procured, whether to sauté or steam the carrots or broccoli. In fourth grade I met the boy who would become my best man and godfather to my son at the lunch table discussing what was in our brown bags. So it's not entirely surprising that I became passionate about the Slow Food organization early on.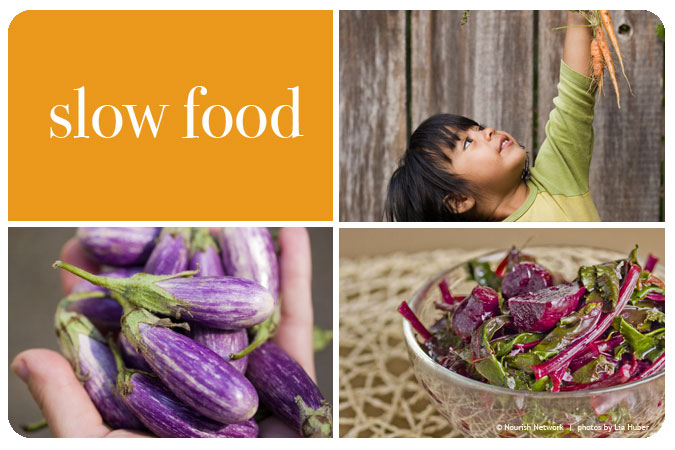 Slow Food International started over 20 years ago when an Italian food and wine journalist named Carlo Petrini learned that McDonald's was coming to his country (and even worse, to Rome). So he organized a protest. With the help of other media friends they staged a march that drew nearly 100,000 people to eat traditional penne pommadoro and lament the assault on their culture that McDonald's represented.
The upshot of that protest was a budding organization named in opposition to the fast food that had provoked its birth. What began simply as a group of gourmands wary of the threat to their beloved cuisine quickly became a global movement of environmentally conscious foodies. Concerns over food security and food justice were soon added to the list. Today there are over 100,000 members joining together in local chapters called convivia (including the one I founded in Iowa) in 129 countries around the world promoting "good, clean and fair food for all."
From the national and international level to the individual local chapters, Slow Food uses a wide variety of activities to educate and inform on the importance of real fresh food and the centrality of the farm, the kitchen and the table in our everyday lives.
Preserving Diversity
One of Slow Food's core agendas is to save real food before it becomes a quaint memory. During the time that Slow Food has been in existence, its Ark of Taste program has cataloged and reinvigorated hundreds of foods in danger of extinction. That may sound exaggerated, but the statistics are startling. 93 percent of American food product diversity has been lost since 1900 (75 percent of European food product diversity disappeared during the same time period). Thirty-three percent of livestock varieties have vanished or are near vanishing and nearly 30,000 vegetable varieties have become extinct in the last century; one more is lost every six hours. Another important Slow Food program, Renewing America's Food Traditions (RAFT), brings together food producers, chefs and consumers in identifying and preserving America's unique foods and traditions.
Strengthening Small Farmers and Artisans
Small farmers and artisans, often struggling to remain economically stable, produce many of the foods spotlighted by these initiatives. Through programs like Terra Madre and Presidia, Slow Food helps strengthen these small producers committed to responsible and sustainable food production. The Terra Madre network and biennial conference brings together farmers, food producers, cooks, activists and academics to put their heads together, learn from and help one another, while Presidia provides a support network to artisan producers to help keep their production viable.
Fighting for the Health of Our Children
But Slow Food has a direct impact on our health too. Last fall, in an initiative that brought back memories of that fated cafeteria table, Slow Food USA brought the nation's attention to the problem of unhealthy school lunches. Its Time for Lunch campaign and the Labor Day "Eat-Ins" around the country (think old-fashioned activism with a hot dish to share) raised awareness, and had an arguable influence on Mrs. Obama's Let's Move campaign for healthier kids. Taken with the USDA's "Know Your Farmer, Know Your Food" initiative, it's clear that Slow Food's ideals are beginning to hit the mainstream.
Getting Connected
Members of Slow Food get connected through their local chapters, made up of people who care—and are curious—about the link between food, agriculture, health and the environment. Convivia gatherings can be social, educational or political in nature (or, in many cases, all three at the same time), and members also have access to regional, national and international events that celebrate good, clean, fair food.
The most profound benefit to joining Slow Food, though, is becoming part of the growing movement that is actively leading the way in changing how America eats.
Kurt Michael Friese is the founding leader of Slow Food Iowa, serves on the Slow Food USA National Board of Directors, and is editor and publisher of the local food magazine Edible Iowa River Valley. He's also Chef and co-owner of the Iowa City restaurant Devotay, a freelance food writer and photographer, and author of A Cook's Journey: Slow Food in the Heartland.