This wheat berries recipe sort of sums up everything NOURISH Evolution stands for. The zucchini comes fresh from our garden (if you don't have one of your own, you'll likely be able to find zucchini that someone else has grown this time of year). The wheat berries are a relatively new whole grain discovery for me, full of flavor and hearty texture that's so good for me my whole body goes 'mmmm.' The shrimp are caught wild or farmed sustainably here in the U.S. This is truly a dish to nourish body, soul, and planet.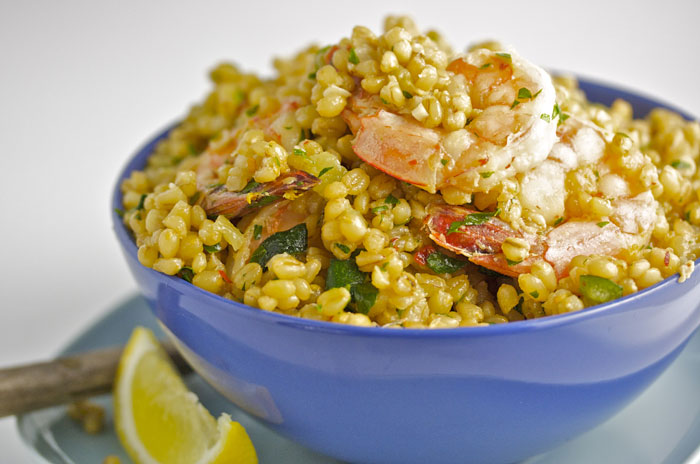 1-1/2 cups wheat berries
4 cups water
Sea salt, to taste
1/4 cup extra-virgin olive oil
3/4 pound U.S. wild-caught or farm-raised shrimp, peeled and deveined
2 cups zucchini, cut into a small dice
5 cloves garlic, minced
Zest of 1 lemon
1/2 teaspoon chile flakes
1/2 cup dry white wine
1/4 cup fresh squeezed lemon juice
1/4 cup parsley, minced
1/4 cup pitted Kalamata olives, halved lengthwise (optional)
Bring wheat berries and water to a boil in a medium saucepan. Cover, reduce heat to low, and simmer for 60-90 minutes, until all the water is absorbed and wheat berries are tender. Remove from heat and let sit 10 minutes. Stir in salt.
Heat a large skillet over medium-high heat and swirl in oil. Sauté shrimp and zucchini for 1-1/2 minutes, until just beginning to brown. Add garlic, lemon zest and chili flakes, and continue cooking for 2 minutes. Season with salt and scrape into a bowl.
Add wine to the pan and scrape up any bits stuck to the bottom of the pan. Stir in wheat berries and sauté 2 minutes. Add shrimp mixture back to the pan and stir in lemon juice and parsley (and olives, if using). Garnish with additional parsley and lemon zest.
Notes
Cook Time: 60-90 minutes
Serves 6