My daughter LOVES this quiche—which is good news, considering how many good things are packed into it! It's a great "entry level" quinoa (and even broccoli) dish for kids and other picky eaters. If you've got Spiced Quinoa on hand, this comes together very quickly.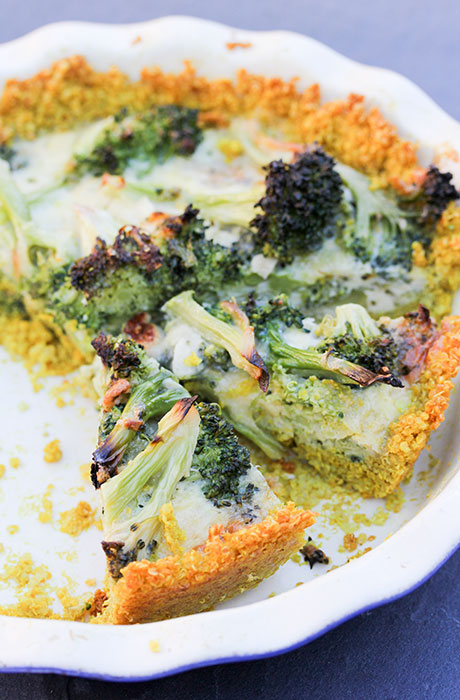 Crust:
2-½ cups Spiced Quinoa or plain cooked quinoa, about 1 cup uncooked
1 teaspoon dried mustard
1 teaspoon turmeric
1 egg
freshly ground black pepper, to taste
cooking spray
Filling:
½ recipe Roasted Broccoli with Garlic Chips, Chile and Lemon Zest
5 eggs
½ cup lowfat milk
sea salt and freshly ground black pepper, to taste
1 cup sharp Cheddar cheese, shredded
Preheat oven to 375°F.
While oven is preheating, mix together the quinoa, mustard, turmeric, 1 egg and a pinch of freshly ground black pepper in a medium mixing bowl. (Keep the bowl for later.) Spray a 9-inch pie plate with cooking spray. Press the quinoa mixture evenly into the bottom and all the way up the sides of the pie plate. Bake for 15 minutes, until just golden brown and starting to crisp. Remove when done.
Arrange the broccoli evenly inside the quiche shell. Whisk together 5 eggs, milk and a pinch of salt and pepper in the bowl you mixed the quinoa in. Pour the egg mixture evenly over the broccoli in the quiche shell. Sprinkle cheese over the top.
Bake the quiche for 35-40 minutes, until filling is set and cheese is bubbly.
Serves 8