I've been eating a lot of salmon lately. When the first catch from Copper River came in, I couldn't resist jumping on the bandwagon. Then I discovered Taku River Sockeye at my local market. And Dave, my fish guy at the farmers market, has had a run of king salmon from Washington that's so buttery rich I practically gobble it up before it hits the grill.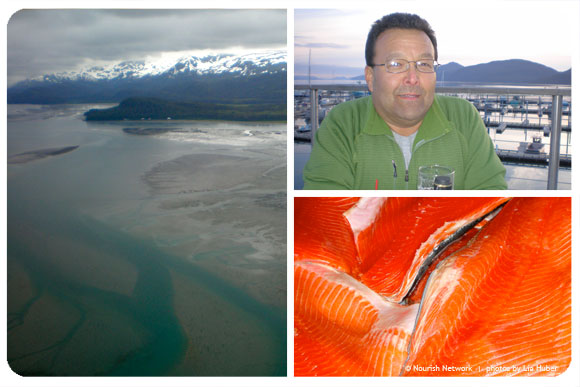 Up until a couple of years ago though, salmon was salmon was salmon to me; some better than others, of course, but it was hit or miss as to why. And then I visited Cordova, Alaska on the Copper River Delta and had an enlightening talk with local fisherman Bill Webber.
Bill said that Copper River salmon have a certain quality to them because of the heavy sediment in the river and I said, "you mean like terroir?" He gave me a funny look and I explained that the term meant a certain ephemeral quality imparted on a wine by the place the grapes were grown. Somewhere during my explanation Bill's head began to bob in agreement and, voila, my salmon-wine analogy was born.
1) There are "varietals" of salmon. For those of you who are fishermen, forgive me. But I really had no idea there were different types of salmon all swimming around in one place. I thought, conveniently, that one type existed in Alaska, another in California, and yet another in the Atlantic. Yet lo and behold, I come to find there are five species—King (Chinook), Sockeye (Red), Coho (Silver), Keta (Chum) and Pink (there are also Steelhead, often referred to as Rainbow Trout, and Atlantic Salmon, which is no longer wild here in the U.S.). These are like the Cabernet Sauvignon and Syrahs and such of the salmon world, each one with its own inherent set of qualities common amongst the species.
2) Terroir exists in fish too. As I mentioned, Bill—and several other people from fishermen to cannery-men to chefs—talked about the unique quality of Copper River salmon, and that began to make a lot more sense to me when I flew over the river and saw it spreading like a spilt latte into the delta. The mineral-rich brew and high headwaters here gives the fish a succulent flavor and silken texture that not all salmon possess. However, as with grapes, this isn't necessarily a "good" or "bad" scenario . . . it's simply a unique taste and texture that reflects the place it's from.
3) There are "appellations" in the fishing industry too. When Bill was explaining the various associations and labels to me, yet another parallel became clear: salmon displays terroir too. I began thinking of Alaska salmon as the equivalent of "California wine." A bit tighter geographic area and I had the "Sonoma County" equivalent of the Prince Williams Sound area around Cordova. The particular appellation of Copper River would be akin to Alexander Valley or Dry Creek Valley here in Healdsburg. That was a revelation for me.
So while we're at the peak of salmon season, try several different "varietals" (from either Washington or Alaska, since California and Oregon are under a voluntary hiatus to let stocks replenish) and see which ones you prefer. If you want to talk about what kind of wine to sip with your salmon … you'll have to ask my husband.