Commercial fish sticks are loaded with fillers and preservatives. Make your own and you can avoid all that. I'll often double this recipe and freeze half, so I have healthy fish sticks on hand for Noemi for busy nights. Just heat frozen fish fingers in the oven at 400 degrees F for about 15 minutes, or until cooked through.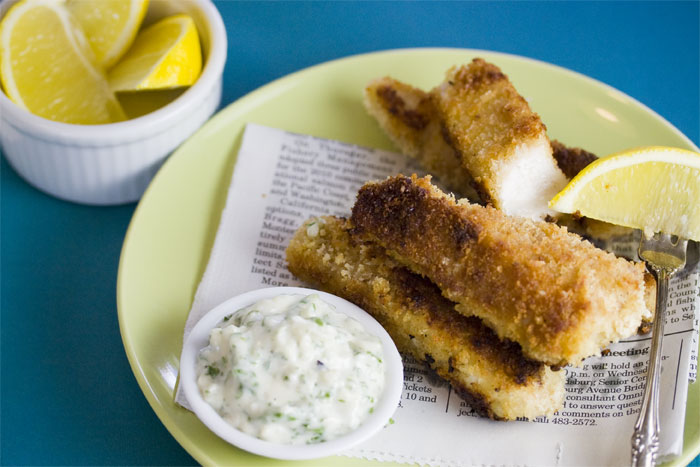 Tartar Sauce:
2 tablespoons cilantro, minced
2 tablespoons mayonnaise
1 serrano pepper, seeded and minced
1 clove garlic, peeled, smashed and finely minced
Sea salt and freshly ground pepper, to taste
Fish Sticks:
1 cup lowfat buttermilk
1 egg, lightly beaten
1-1/2 cups panko bread crumbs, preferably organic
1/4 cup whole wheat flour
1 pound halibut fillets (or other firm, white fish), cut across the grain into 1-inch strips
3 tablespoons canola oil, divided
Remaining ingredient:
Lemon wedges
To prepare tartar sauce, combine first 4 ingredients with a pinch of salt and pepper.
To prepare fish sticks, whisk together buttermilk and egg in a shallow dish. Combine panko breadcrumbs, flour, salt, and pepper in zip-top bag.
Just before cooking, dip fish in milk mixture and add to crumb bag. Shake well, pressing the crumbs into the fish.
Heat 2 tablespoons oil in a large nonstick skillet over medium-high heat. When oil is hot, add half the fish to the pan, leaving enough room between pieces for air to circulate. Cook 3 minutes on each side or until fish flakes easily when tested with a fork. Remove to a plate lined with paper towel. Heat remaining 1 tablespoon of oil and cook remaining fish.
Serve with tartar sauce and lemon wedges.
Serves 4