Whole wheat fusilli and other pasta is a quick-cooking whole grain that pairs well with hearty ingredients like bold-flavored Brussels sprouts and a creamy dressing for a wintry weeknight dish. The liaison of egg yolks and a touch of cream lends the sauce a silky richness so it clings to the pasta. As winter gives way to spring, experiment with other vegetables, such as English peas in place of the Brussels sprouts. If you don't happen to have pancetta on hand, substitute 2-3 slices of bacon. It'll be just as delicious, albeit with smokier flavor. (Use the leftover egg whites from this recipe to make a batch of Saffron Cardamom Coconut Macaroons.)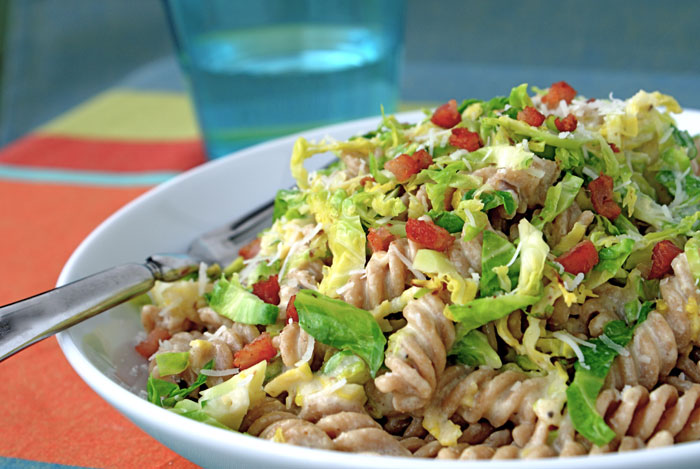 8 ounces whole wheat fusilli pasta
1/4 cup diced pancetta
8 ounces Brussels sprouts, trimmed, halved and thinly sliced
1-1/2 cups chicken stock
2 tablespoons heavy cream
2 egg yolks
1/2 cup grated pecorino Romano cheese, divided
Sea salt, to taste
Freshly ground black pepper, to taste
Cook pasta according to package directions in salted boiling water. Drain.
While the pasta cooks, put the pancetta in a large saute pan over medium-low heat. Cook 5-7 minutes or until the pancetta is crisp and has rendered its fat. Use a slotted spoon to remove the pancetta from the pan (leaving the fat behind), and drain on a paper towel. Increase the heat to medium-high. Add Brussels sprouts to pan, and saute 3 minutes or until the Brussels sprouts are crisp-tender. (If the pan looks dry, add 1-2 tablespoons of the hot pasta water.) Transfer Brussels sprouts to a bowl.
Add chicken stock to the hot pan. Bring to a boil, and cook until it reduces by one-third to one-half, scraping the bottom of the pan to loosen any of the tasty browned bits. Whisk together the cream and egg yolks. Remove pan from heat and whisk in the yolk mixture. Return the pan to medium-low heat. Gradually whisk in 6 tablespoons of the cheese. Cook 1-2 minutes or until thickened. Season to taste with salt and pepper.
Add the hot cooked pasta to the pan, stirring to combine. Stir in the Brussels sprouts. Divide mixture between 4 bowls or plates. Garnish evenly with pancetta and remaining cheese.
Serves 4