This is the summertime version of our very popular quinoa-crust quiche.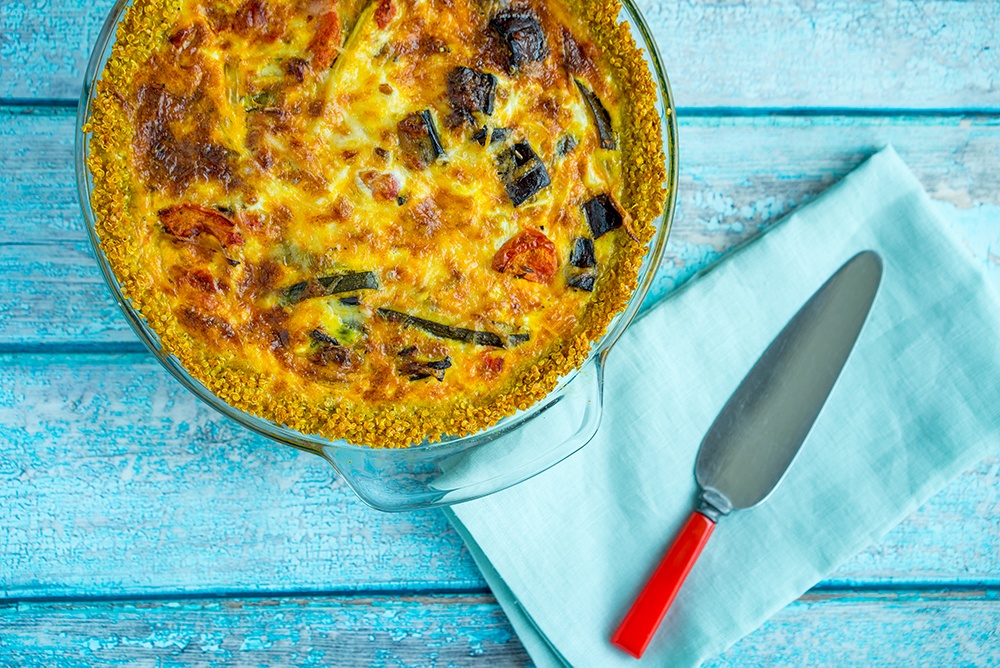 1-1/2 cups water
1 cup quinoa, rinsed and drained
sea salt and freshly ground black pepper, to taste
1 teaspoon dry mustard
1 teaspoon ground turmeric
5 large eggs, divided
cooking spray
1/2 cup milk
3/4 cup Gruyère cheese, shredded
1/3 recipe Really Easy Roasted Ratatouille (about 1-½ cups)
Preheat oven to 375°F.
While oven preheats, combine water, quinoa and a generous pinch of salt and pepper in a small saucepan. Bring to a boil. Cover, reduce heat to low and simmer 10 minutes. Remove from heat and let stand, covered, 10 minutes. Fluff with a fork.
Combine quinoa, mustard, turmeric, 1 egg, and a pinch of salt and pepper in a medium mixing bowl. Press mixture into a 9-inch pie plate that is well coated with cooking spray, pressing evenly into the bottom and all the way up the sides. Bake 15 minutes, or until just golden brown and starting to crisp. Remove from oven.
While the crust bakes, whisk together the remaining 4 eggs, milk, ½ cup cheese, and a pinch of salt and pepper.
Arrange ratatouille evenly inside the quiche shell. Pour egg mixture evenly over vegetables. Sprinkle with remaining ¼ cup cheese. Place on a rimmed baking sheet (to make it easier to maneuver in and out of the oven). Bake 35 minutes, or until the filling is set, and the cheese is bubbly.
Let stand 10 minutes before slicing.
Serves 8