We've adapted this tasty maple-bourbon sauce from Hank Shaw's award-winning blog Hunter Angler Gardener Cook. This sauce also works nicely with wild turkey, boar or pheasant. The duck breasts will render quite a bit of flavorful fat, which many chefs consider to be the platinum standard of cooking fats. Don't throw it away! Instead, strain the fat through a fine-mesh sieve and use it in place of other fats (butter, oil) in other recipes. It will keep for up to a week in the refrigerator.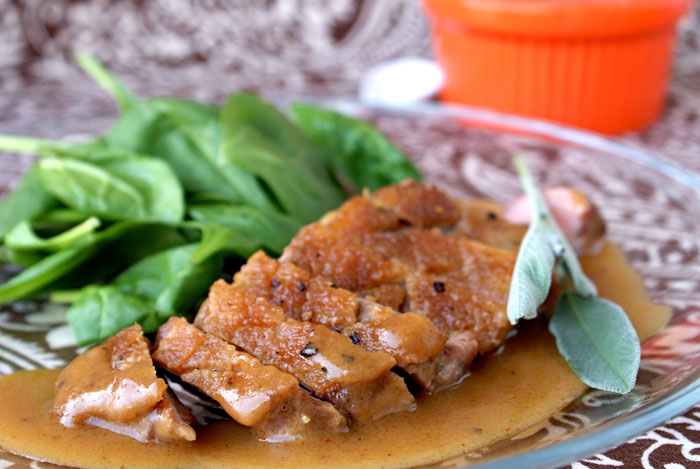 4 boneless duck breast halves, skin on
Sea salt, to taste
Freshly ground black pepper, to taste
2 teaspoons sugar
1 tablespoon all-purpose flour
2 tablespoons bourbon
1/4 cup chicken stock
1-1/2 tablespoons maple syrup
1/4 teaspoon Sriracha hot sauce
1 tablespoon heavy cream
Sage sprigs, for garnish
Preheat oven to 400 F. Place a foil-lined baking sheet in oven.
Heat a large skillet over medium heat. Trim any excess fat from edges of duck breast halves; set aside. Score the duck skin and fat in a diamond pattern. Season duck with salt and pepper. Place duck skin-side-down in pan, and cook 5 minutes. Reduce heat to low, add reserved trimmings of duck fat to the pan, and continue to cook 15 minutes until the skin crisps and the fat renders out.
Remove the duck to a work surface; dust the skin side of duck with sugar. Place duck skin-side-down on preheated baking sheet. Bake 7 minutes or until meat is medium-rare. Remove from oven, turn duck skin-side-up, and cover with foil. Let stand 10 minutes.
Pour off all but 2 tablespoons of the rendered duck fat (strain and reserve remaining fat for another use).
While duck stands, heat the skillet over medium heat. Whisk in the flour, and cook 5 minutes or until dark golden-brown. Stir often and keep an eye on it so it doesn't burn.
Take the pan off the heat and whisk in the bourbon, then return it over medium-high heat. It will thicken and sputter. Stir well, and start adding the stock, whisking constantly. When the sauce boils, whisk in the maple syrup and Sririacha. Let this simmer over medium heat for 1 minute. Turn off the heat and let the sauce stop bubbling. Whisk in the cream. Adjust seasoning as needed.
Slice each duck breast half across the grain. Garnish each plate evenly with the sauce. Garnish with sage.
Serves 4