This is the Nourish version of a classic pumpkin pie. A cookie crumb crust is an easy option if you don't feel like making pastry. Using coconut sugar, a less-processed alternative to regular white sugar, lends this tart deep caramel-y notes. You can substitute regular sugar, if you prefer. If you don't have pumpkin pie spice on hand, use 1/2 teaspoon ground cinnamon, 1/4 teaspoon ground nutmeg, 1/8 teaspoon ground cloves, and 1/8 teaspoon ground ginger. Bake the tart up to 2 days ahead, cool completely, and refrigerate. Toast the walnuts a day or two ahead and store them in an airtight container.  You can whip the cream on Thanksgiving morning and pop it in fridge.
We call for canned unsweetened pumpkin puree, which is a terrific pantry staple. But with the abundance of winter squash available this time of year, you certainly can substitute 2 cups pureed roasted winter squash (sugar pie pumpkin, Cinderella pumpkin or butternut squash are good options). And for the easiest way ever to roast a whole winter squash, check out cookbook author Amelia Saltsman's super-simple technique.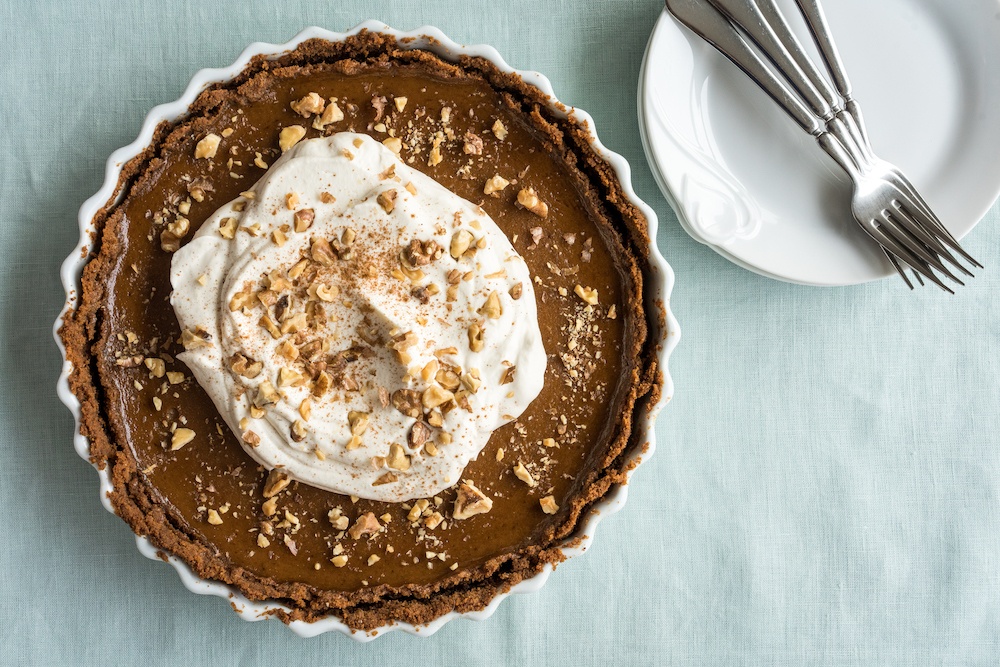 Crust:
1 cup Graham cracker or cookie crumbs (such as gingersnaps, Biscoff, etc.)
3 tablespoons coconut sugar
1/4 cup butter, melted
Cooking spray
Filling:
1 (15-ounce) can unsweetened pumpkin puree or 2 cups pureed roasted winter squash
3/4 cup coconut sugar
3/4 cup half-and-half
2 tablespoons unbleached all-purpose flour
2 teaspoons pumpkin pie spice, plus extra for garnish
1 teaspoon vanilla extract
1/4 teaspoon sea salt
2 large eggs
Remaining ingredients:
1/2 cup whipping cream
2 tablespoons maple syrup
2 tablespoons finely chopped toasted walnuts
Preheat oven to 350°F.
To prepare the crust, place crumbs, 3 tablespoons coconut sugar and butter in a small bowl, tossing with a fork to combine. Use the bottom of a small glass to evenly press mixture into bottom and up sides of a 10-inch tart dish (see Note) coated with cooking spray. Bake at for 10 minutes. Set aside
To prepare the filling, combine pumpkin, 3/4 cup coconut sugar, half-and-half, flour, pumpkin pie spice, vanilla, salt and eggs in a blender. Blend until smooth. Pour into prepared crust. Bake 35-40 minutes or until filling is set. Cool completely on wire rack.
Place cream and maple syrup in a medium bowl. Beat with a mixer until stiff peaks form. Dollop or pipe whipped cream onto cooled tart, as you wish. Dust with pumpkin pie spice, if desired. Sprinkle with walnuts.
NOTE: We used a ceramic tart dish here. If you prefer to use a metal removable-bottom tart pan, it will cook a bit faster, so start checking for doneness at 30 minutes.
Serves 6-8
Prep time: 15 minutes
Cook time: 50 minutes