This colorful fall salad pairs two fall treasures: the persimmon and the pomegranate. If you have wee ones, put them to work seeding the pomegranate. Fill a deep bowl with water, cut the pomegranate in half, and show them how to keep their hands below water while they work. The seeds will drop to the bottom and the peel will float to the top, and you'll have a neat and happy helper come mealtime.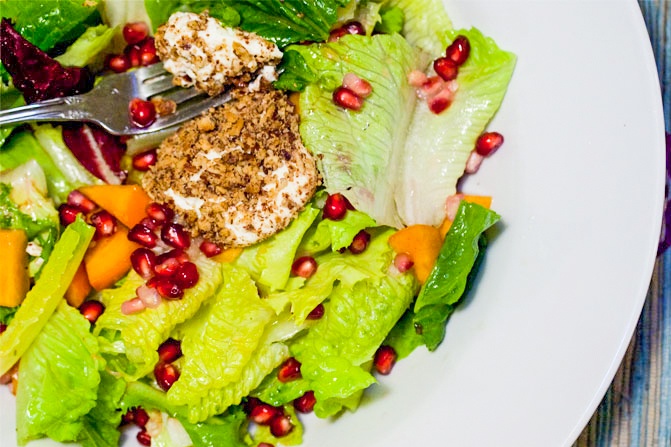 1 tablespoon minced shallot
1/4 cup Champagne vinegar
3 tablespoons extra-virgin olive oil
1 tablespoon pomegranate molasses or honey
Sea salt and freshly ground black pepper, to taste
12 pecan halves, toasted
4 ounces soft, young goat cheese
6 cups salad greens
1 fuyu persimmon, sliced in half and then into thin wedges
1 pomegranate, seeds removed and reserved
Preheat oven or toaster oven to 350 degrees F.
Shake together shallot, vinegar, olive oil, molasses,  salt and pepper in a tight-sealing jar. Set aside.
Place the pecans in a zip-top plastic bag and gently crush with a rolling pin until they're the texture of coarse sand. Cut the goat cheese into 8 pieces and shape each into a fat disc. Press into the pecans to coat on both sides and place on a foil-lined baking sheet. Bake for 8 minutes.
Toss together greens and persimmons in a salad bowl. Give the dressing one more shake and pour it over the top. Toss to mix and portion out onto 4 salad plates. Top each serving with 2 slices goat cheese rounds and sprinkle evenly with pomegranate seeds.
Serves 4