This quick bread uses several of the nourishing nonperishables–canned pumpkin, oats, walnuts and whole-grain flour–that Ruthi Solari of SuperFood Drive encourages people to donate to food banks. Enjoy this anytime of day–for breakfast, an afternoon snack or even dessert. It's also nice baked as muffins or into little 5 x 2-1/2-inch loaves to give as gifts. (Use the leftover pumpkin to make a batch of our Pumpkin Spice Oatmeal with Toasted Pecans.)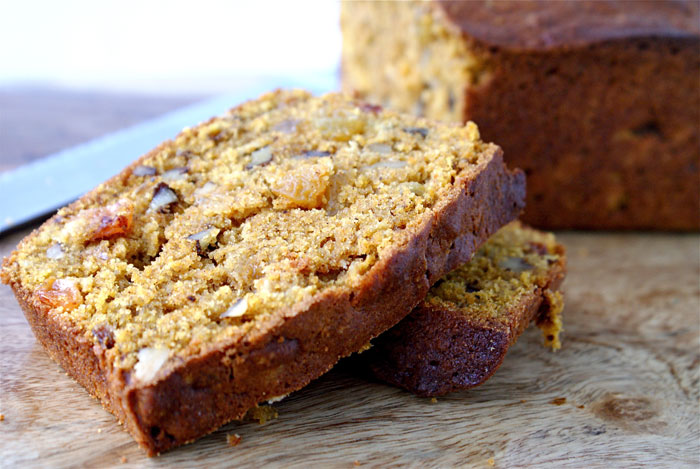 3/4 cup unbleached all-purpose flour
3/4 cup whole wheat pastry flour
1/2 cup rolled (a k a old-fashioned) oats
1 teaspoon baking powder
1/2 teaspoon baking soda
1-1/2 teaspoons pumpkin pie spice
1/4 teaspoon sea salt
3/4 cup granulated sugar
1/4 cup packed brown sugar
3/4 cup pumpkin puree
1/2 cup canola oil
1 tablespoon maple syrup
2 large eggs
1/2 cup chopped walnuts
1/2 cup golden raisins
Nonstick cooking spray
Preheat oven to 350 degrees F.
Combine first 7 ingredients in a large bowl, stirring with a whisk. Make a well in the center of the dry ingredients.
Combine sugars, pumpkin puree, oil, maple syrup and eggs in a medium bowl, stirring with a whisk until thoroughly combined. Add liquid ingredients to dry ingredients, stirring with a spoon just until combined (don't overmix or your bread will turn out tough). Gently fold in nuts and raisins. Scrape batter into a 9-by-5-inch loaf pan coated with cooking spray. Bake for 60-70 minutes or until a toothpick inserted in the center comes out clean. Cool in pan 5 minutes. Remove loaf from pan, and cool completely on a wire rack.
Serves 12