Mention the phrase "meal plan" and you'll likely hear a litany of reasons for why there's no time. Yet even 15 minutes to plan ahead can help you set a simple framework that will make your holiday feast less stressful. Here are three steps to crafting a plan for your holiday meals.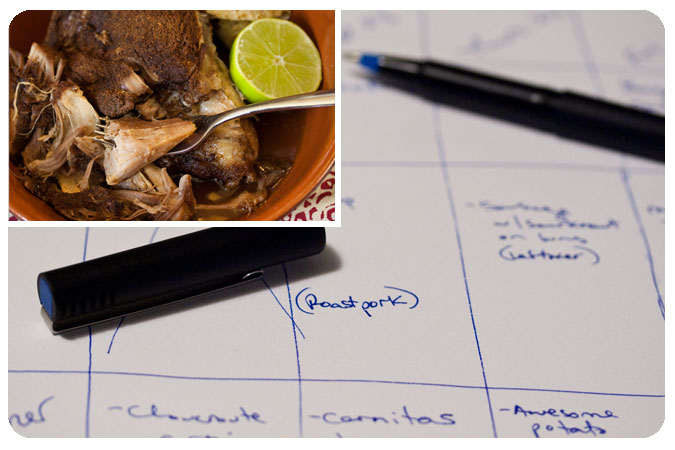 Step 1 — Brainstorm. I always like to start my meals planning with a fun brainstorming session. Pen and paper in hand (and often a glass of wine too), I jot down recipes that have caught my eye and ideas I've been wanting to try. Right now, my menus for Christmas week include "awesome potato something," "duck confit" and "winter salad with persimmons, pomegranate and frisée." And I'll continue to add to the general list as my family's arrival date draws near. Let yourself get creative during this stage; part of its purpose is to get you excited about cooking rather than dreading what's ahead.
Step 2 — Fit the pieces together. Once you have a list of recipes you'd like to make, it's time to assign what to when. Make a rough grid—either on a pad of paper or on your computer—with the days of the big gathering on the top and the meals of the day on the left. Fill in the big meals and work backwards, fitting in dishes like pieces of a puzzle. Think about the logistics not just of the big feast, but of each day surrounding it. On a busy day, go with an easy pasta or stir-fry for dinner. If you've got a game-night planned, put a pork shoulder in the oven for tomorrow's lunch. Follow a heavier day with lighter soups and salads. The idea is to strike a balance–of filling and light, of fancy and casual, of complex and super-quick–so your meals complement the dynamics of the days rather than becoming stressful to-dos.
Step 3 — Make an initial list. Once you've brainstormed and fit your pieces together (and don't be shy about crossing out and shifting around . . . this is a work in progress, after all), make a quick list of the major items you'll need. You can work out specifics as the dates approach, but having a rough idea of what's ahead can help prevent being stuck without eggs, or ripe pears or avocados, or a special cut of meat come mealtime.
This week, bring a bit of goodness and light to your gathering by taking some time to plan out your holiday meals.