These pickled cucumbers are inspired by the spicy-sweet pickles served at Saffron, a popular Thai takeaway in San Diego. Use thin-skinned Japanese, Persian, English or pickling cucumbers, and slice them as thinly as possible. If you have a mandolin or Japanese slicer, this a good time to use it; otherwise, just use a razor-sharp chef's knife. Serve these pickled cucumbers as a refreshing summer side dish, or use them as a condiment in sandwiches and tacos. They'd be delicious on a sandwich or tortilla with Grass-Fed Beef Bulgogi and Fiery-Sweet Peach Salsa.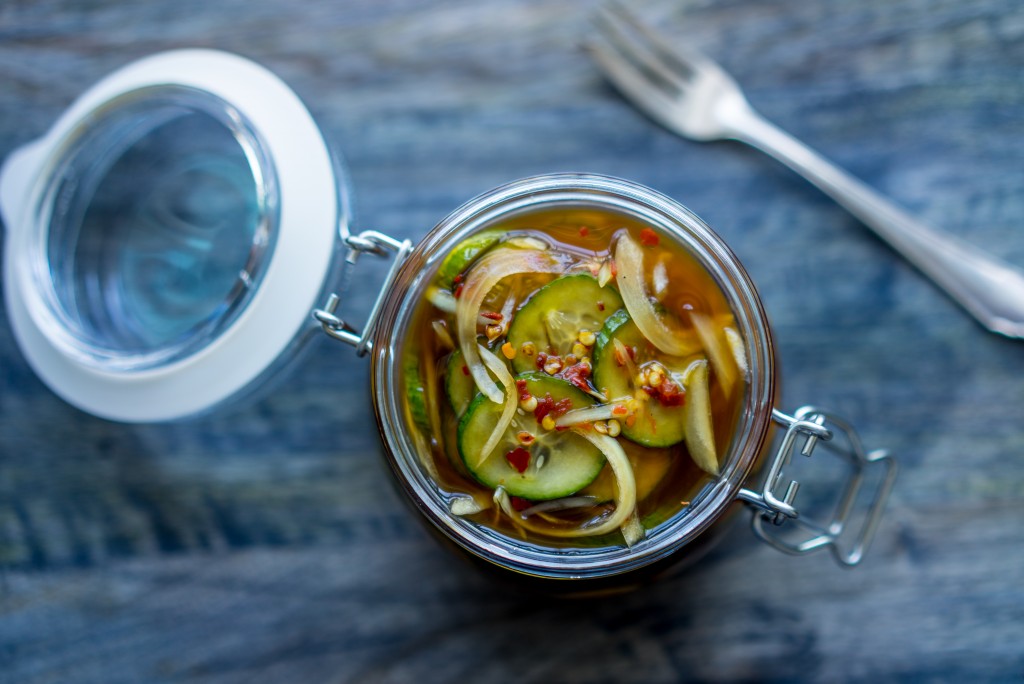 1 cup rice vinegar
1/3 cup packed brown sugar
2 tablespoons fresh lime juice (1-2 medium limes)
2 teaspoons kosher salt
1/4-1/2 teaspoon red chili flakes
1/2 pound Japanese, Persian, English or pickling cucumbers, thinly sliced (1/8-inch thick or thinner)
1/4 cup thinly vertically sliced onion
Combine first 5 ingredients in a small saucepan. Bring to a boil, stirring to dissolve sugar. Remove from heat and cool to room temperature.
Combine cucumbers and onion in a medium bowl. Add vinegar mixture and stir to combine. Let stand at room temperature for at least 45 minutes before serving, or transfer cucumber mixture to a clean jar and refrigerate up to 2 weeks.
Makes 1 pint