A buckle is a homey, old-school American dessert that's a single-layer coffee cake studded with fruit. As the cake cools, it settles and "buckles." I used raspberries here, but blueberries or blackberries would work just as well. If you happen to have our DIY Ghee on hand, use it to add deep flavor to this recipe. The buckle cake a great addition to a brunch spread or as an afternoon snack with coffee or tea.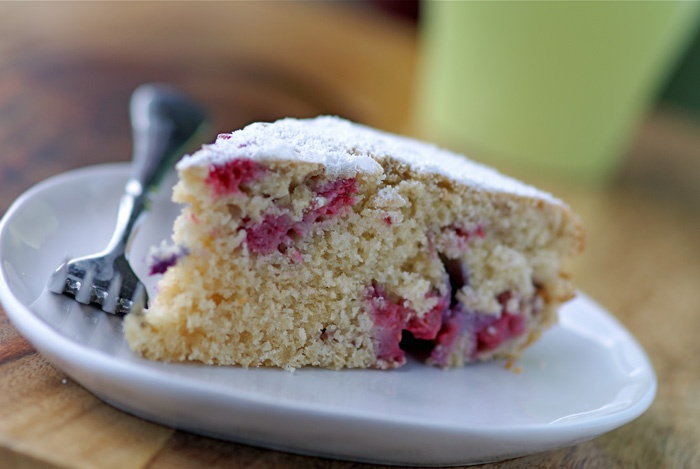 1 cup whole wheat pastry flour
1 cup all-purpose flour
2 teaspoons baking powder
1/8 teaspoon sea salt
3/4 cup granulated sugar
1/4 cup (2 ounces) butter OR DIY Ghee, softened
1 teaspoon vanilla extract
1 large egg
3/4 cup 1% low-fat milk
2 cups fresh raspberries
Nonstick cooking spray
1 teaspoon powdered sugar
Preheat oven to 350 degrees F.
Whisk together the flours, baking powder and salt. Place the granulated sugar and butter in a large bowl. Beat with a mixer until pale and fluffy. Beat in the vanilla and egg. Alternate adding the flour mixture and milk, beginning and ending with the flour mixture. Gently fold in the raspberries. Scrape the batter into a 9-inch cake pan coated with cooking spray. Bake for 45 minutes or until a wooden pick inserted in the center comes out clean. Cool for 10 minutes in the pan. Run a knife around the edge of the cake. Invert cake onto a wire rack and cool completely. Turn cake right-side-up. Sift powdered sugar over top of the cake.
Serves 8