This is part 3 in our Nourishing Issues 2011 series, in which we're spotlighting a few key topics: food safety, local food and nutrition. The list could be much longer, of course, but these are three biggies that we're sure to revisit throughout the year.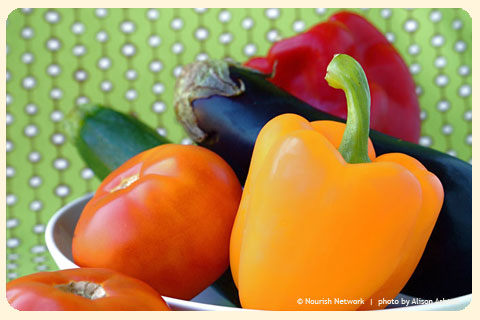 Hmmm. I'd hoped to have some actual news to report in this post, since the 2010 Dietary Guidelines for Americans were due to be released, well, last year. These guidelines, issued jointly by the U.S. Department of Agriculture and the department of Health and Human Services, are updated every five years. They're a big deal, because they influence public health policy, including programs like school lunches. The finalized 2010 guidelines may be released by the end of this month. Or maybe not.
As we reported last fall, the USDA and HHS are evaluating the recommendations made by the 2010 Dietary Guidelines Advisory Committee (DGAC) of experts and based on all the latest nutrition research. As we noted then, many of the recommendations were in line with NOURISH Evolution's core values of sound nutrition, eco-clean food, mindful meals and cooking skills. As for the finalized guidelines, here's what we anticipate the guidelines will include, based on the committee's recommendations:
Predicted guideline: Eat more fruits and vegetables.
Our take: Duh, this has been part of every version of the dietary guidelines since they were first published in 1980. Trouble is, government recommendations do little to encourage Americans to eat more fruits and vegetables–consumption rates have been flat since 1999.
But we don't expect the finalized guidelines to go along with the advisory committee's call for a shift shift toward a more plant-based diet with only moderate amounts of lean meats, poultry and eggs. That's excellent advice, but it's hard to imagine the USDA will overlook influence from the powerful beef, poultry and egg lobbies, which will want to keep their foods on the American plate.
Predicted guideline: Reduce the recommended intake of sodium to 1,500 milligrams per day (that's a little over 5/8 teaspoon of salt) for the general population, down from 2,300 milligrams (about 1 teaspoon) in the 2005 Dietary Guidelines.
Our take: Because the evidence is so strong, we think the final guidelines will lower the recommended daily allotment of sodium.
Predicted guideline: Americans need to get off the SoFAS (solid fats and added sugars, that is).
Our take: We think the final guidelines will urge Americans to minimize their consumption of solid fats (butter, cheese, fatty cuts of meat and the like) and added sugars, both of which comprise more than a third of the American diet and contribute to our ballooning obesity rates.
But here again, the USDA will continue to deliver a conflicting message–on the one hand, urging moderation and a healthy diet while on the other working with the industry to create programs that promote consumption of the very foods contributing to our nation's health problems. Cheese, anyone?
Will we be right? We'll revisit this when the 2010 guidelines are–finally–released. At the very least, we're hoping the new guidelines also come with a fresh new graphic. The 2005 guidelines came with a confusing color-coded pyramid that no one liked.
Also in this series:
What Will It Take to Make Our Food Safe?
The Evolution of Local