By Evangeline Heath
One of the big hurdles for an apartment gardener like me is finding a plot to plant in.
I was already growing vegetables in containers, but I longed for a real patch of earth to dig and roll around in. With a five-year waiting list for my community garden, though, some ingenuity was in order.
Then I heard about the concept of "yard-sharing" and immediately hoped this was the answer.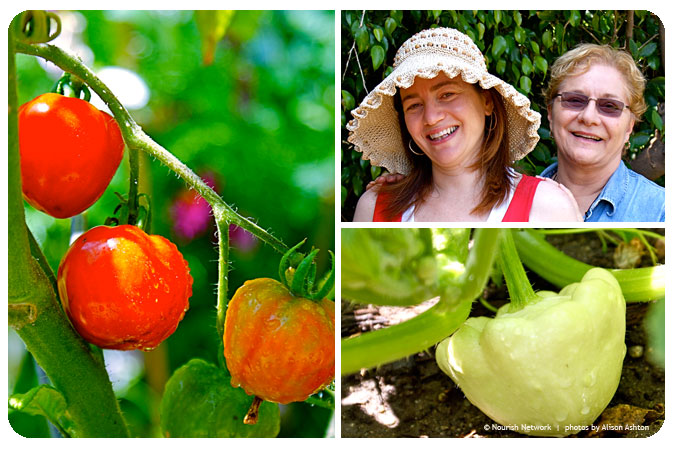 Yard-sharing arrangements connect those without land to neighbors with unused space. It's a win-win situation. Property owners without the time, skill, or ability to work the land reap the benefits of partnering with local gardeners eager to get their hands dirty. It brings neighborhoods together and creates edible landscapes.
Gardeners and property owners find each other in many ways. You can post an ad on Craigslist, or your city might have a horticultural matchmaking service like the Garden Sharing Registry in Santa Monica, California. I tried the national social network Hyperlocavore, where I created a profile and found my neighborhood already had its own "pod" with several members.
I sent my profile to a few people in my neighborhood, but didn't hear back. So I emailed my own circle of friends and pitched the idea of starting a garden for them. Artist Judith Brewer Curtis, mother to one of my closest friends, got in touch and said she'd love to have me give some TLC to her neglected back yard. Her house was just 10 minutes away. Bingo!
We arrived at our arrangement informally, but there are some important issues for yard-sharers to hash out:
What's your gardening philosophy? Do you want to garden organically or conventionally? I'm a 100% organic gardener, and Judith honors that.
What do you want to grow? A gardener shouldn't plant vegetables if the property owner expects flowers.
How will you handle the cost of supplies? Judith pays the water bill, while I purchase other supplies: soaker hose and attachments, potting soil, and compost bin. I buy most of the seeds and seedlings, though Judith makes the occasional nursery run.
When can the gardener use the yard? I have access whenever I want, though I always call or email first.
Can the gardener store equipment on the property? Judith has a full set of gardening tools I can use anytime.
How long are you committed to the project? Our arrangement is open-ended. But it's a good idea to agree on the project's duration if you're yard-sharing with a stranger, at least in the beginning. If it's successful you may decide to let it continue indefinitely.
How often will the gardener tend the yard? I go over a few times a week, and clean up before I leave. She makes sure everything is watered when I'm not there.
So far, it's been a "patch made in heaven." After a big rain made the soil soft, my husband and I double-dug a 100-square-foot plot and amended it with plenty of compost. We planted our summer crops in mid-April, and now we're starting to harvest cucumbers, tomatoes, bell peppers, and melons.
We've both found so much satisfaction in transforming an unused piece of land into a green, productive food garden. I get a place to grow, experiment. and apply all my newly learned gardening knowledge. Judith loves taking care of the plants, but didn't have to do the hard, physical work of setting up the garden.
Most importantly, we both share in the harvest!
Evangeline Heath is a freelance writer based in Santa Monica. She documents her adventures in yard-sharing and urban homesteading in her blog FarmApartment.