Lia used to make an eggplant and tomato dish like this in the oven—like a two-note ratatouille—until she was in Paris with a bowlful of gorgeous produce and no oven but a Dutch oven. So she made it on the stovetop over a long, slow heat, threw in a generous handful of basil at the end, and have never looked back. Ras al hanout ("head of the shop" in Arabic) is a complex North African spice blend that includes a dozen or more spices (typically cardamom, cumin, cloves, cinnamon, nutmeg, coriander, hot paprika, to name just a few). This chunky, luscious sauce is delicious spooned over grilled chicken or fish, tossed with hot pasta and stirred into whole grains. This also freezes beautifully for a lovely reminder of summer when the weather turns chilly.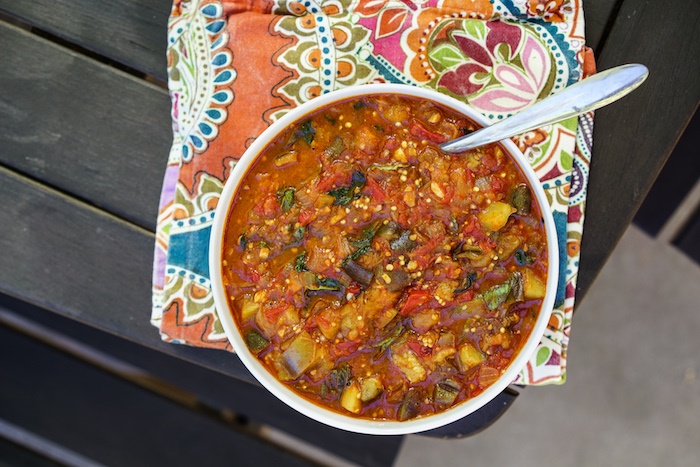 And here are 3 more ways to your bumper crop of eggplant and tomatoes:
1/4 cup extra virgin olive oil
2 pounds Italian globe eggplants, cut into 1-inch cubes
5 cloves garlic, chopped
1 tablespoon ras al hanout (or ground cumin)
3 pounds tomatoes, coarsely chopped
sea salt and freshly ground black pepper, to taste
1 cup fresh basil, whole leaves
Heat olive oil over medium-high heat and add eggplant, stirring to coat. Cook for 3-4 minutes, until eggplant just starts to color. Add garlic and ras al hanout and cook 30 seconds or until just fragrant. Stir in tomatoes, salt and pepper and lower heat to medium-low. Simmer, uncovered, for 30-40 minutes, stirring occasionally, until everything has "melted" into a sort of chunky jam-like consistency. Season with additional salt and pepper if you like, and stir in basil leaves.
Refrigerate up to 4 days or freeze up to 2 months.
Serves 8