Think of this caramel popcorn recipe as Cracker Jacks with an upscale theme. I'm into Chinese five spice powder these days and like the bright note it lends to the caramel. If you don't have it on hand, you can substitute ground cinnamon. Because this caramel is made with maple syrup and agave nectar, it doesn't change color dramatically, so this is a good recipe to use a candy thermometer or digital thermometer. You can break this popcorn into bite-size pieces or form it into popcorn balls.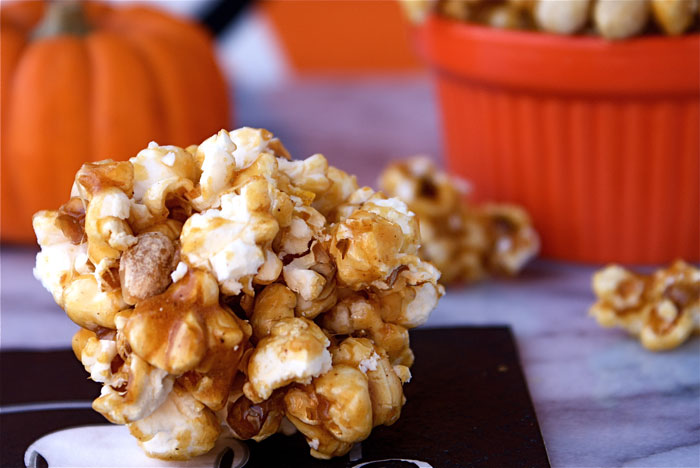 10 cups plain popped popcorn (about 1/2 cup unpopped)
3/4 cup dry-roasted peanuts
3/4 teaspoon sea salt
1/2 teaspoon Chinese five spice powder
1/4 teaspoon baking soda
1 cup sugar
3 tablespoons maple syrup
2 tablespoons raw organic blue agave nectar
2 tablespoons water
2 tablespoons butter
1 teaspoon lemon juice
Place popped popcorn and peanuts in a large, lightly oiled bowl. Combine salt, Chinese five spice and baking soda in a small bowl. Lightly oil 2 silicone spatulas or wooden spoons. Set aside.
Combine sugar and remaining ingredients in a small saucepan over medium heat. Bring to a boil. Place a heatproof bowl in the top of the saucepan for 2 minutes; the condensation will wash away any sugar that has crystallized on the side of the pan. Remove bowl. Cook sugar mixture until it registers 300 degrees F on a candy thermometer, about 10 minutes. Remove from heat and whisk in the salt mixture (the caramel will bubble).
Pour caramel over popcorn mixture. Toss to combine with two lightly oiled silicone spatulas. When the mixture begins to set (it should be cool enough to handle; otherwise wear a pair of latex gloves), lightly oil your hands and, working quickly, break it apart into bite-size pieces or form it into 2-inch balls. Place on a baking sheet to cool completely. Store in an airtight container for up to 5 days.
Serves 20-25