No doubt, there are a lot of heavy things that crop up during the holidays. Cookies, roasts, various casseroles . . . your sister-in-law's confession, Grandma's harping on your bangs. But there's nothing saying you can't mount a counter strategy, for the food at least. Keeping your non-crucial meals light will lighten your spirit too (ever notice how grumpy and sluggish you feel when you've been eating heavy food day after day)?
Here are 10 main course meals that won't weight you down.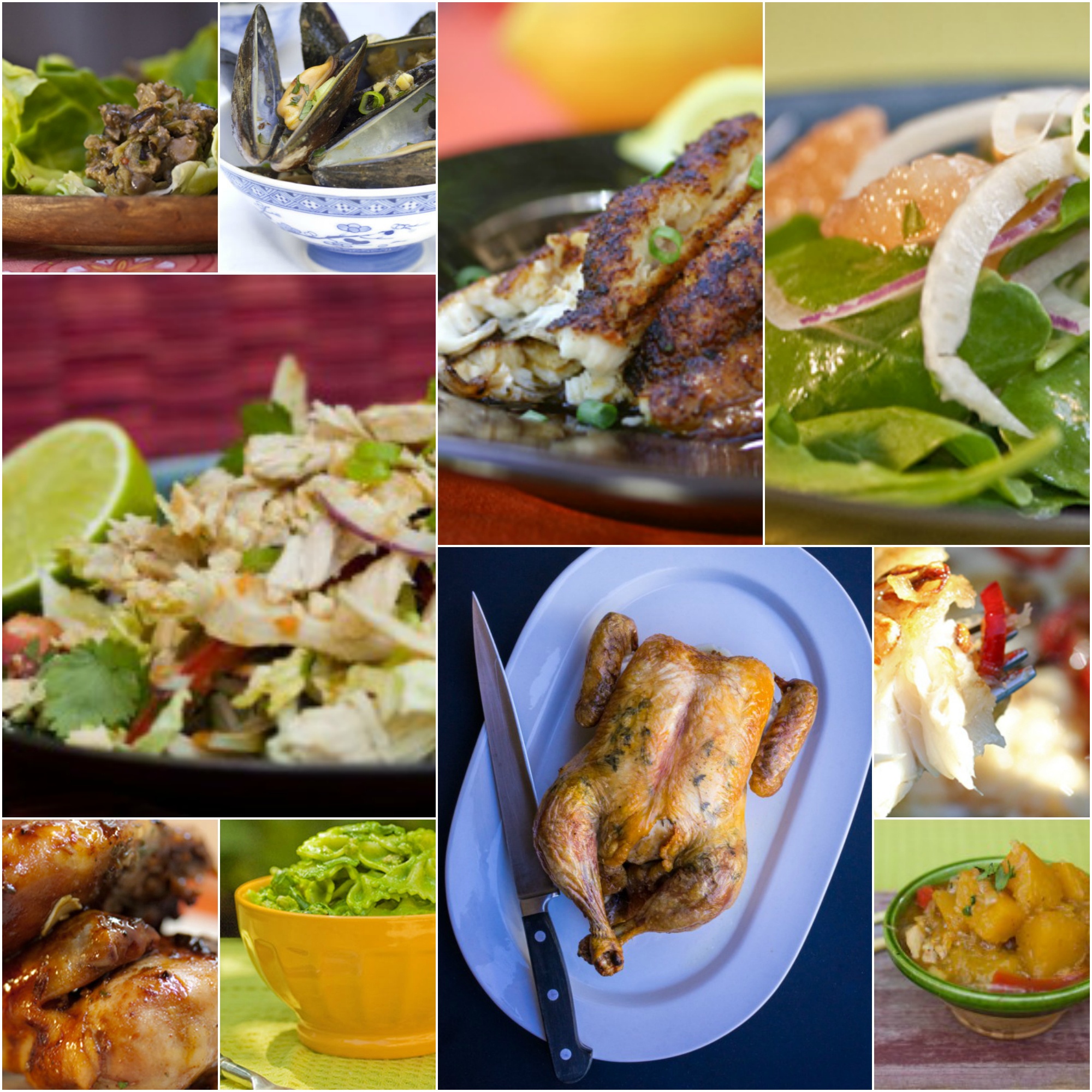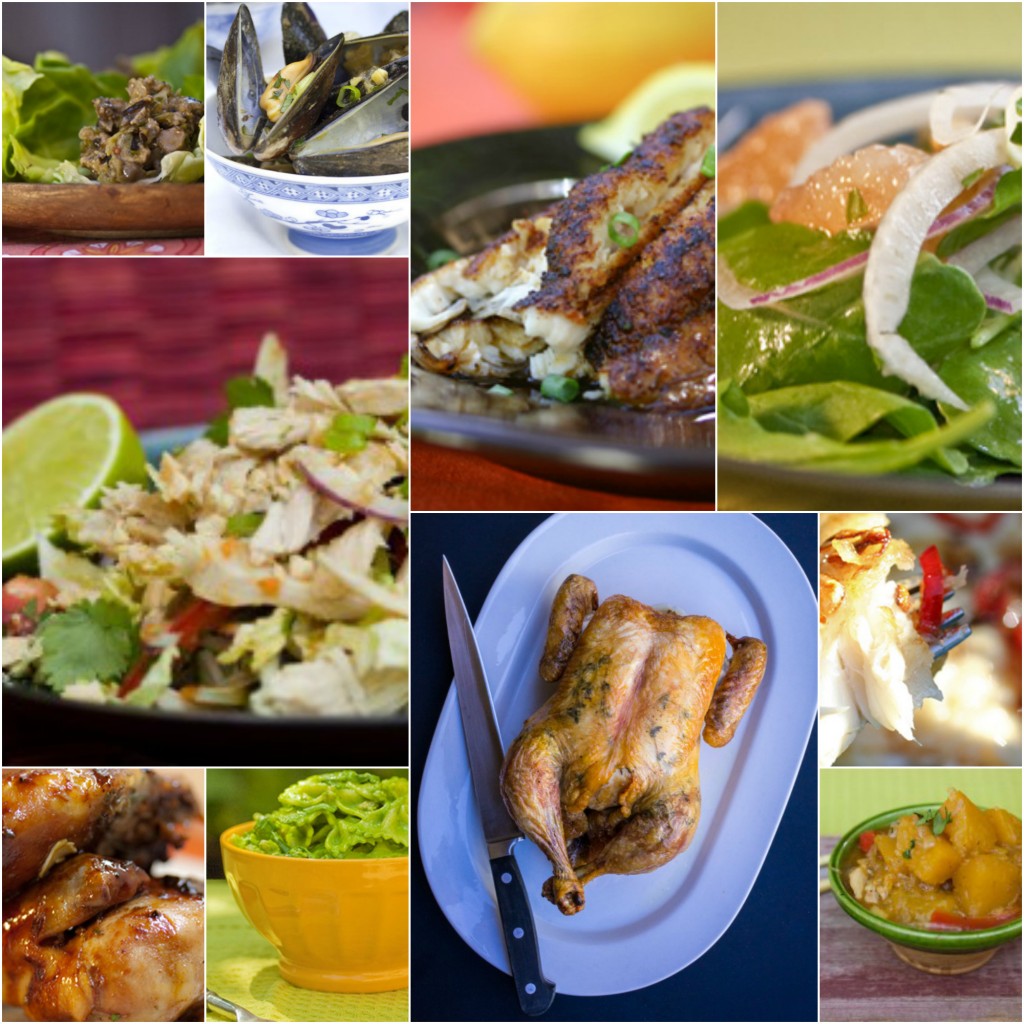 Pumpkin Curry — Gewurztraminer pairs beautifully with this creamy, spicy, aromatic pumpkin curry. If you have a lime tree, crumple up a leaf and throw it into the curry as it simmers (then discard)—it will perfume the dish much as kaffir lime leaves do.
Asian Turkey Salad — After heavy holiday meals, this bright, fresh salad is a nice, light respite. If you don't have leftover turkey on hand, it would also be great with shredded chicken.
Barramundi with Chile and Shallots — Barramundi's meaty yet flaky texture makes it a good pair for dishes with an Asian flair. Like this one, with caramelized shallots and chile and a savory splash of fish sauce. You can find barramundi at many fish counters these days, or in the frozen section of several supermarkets.
Simplest Roast Chicken — I'll admit it: I'm a lazy chicken roaster. There are techniques that have you rotating the bird every few minutes so that it turns an even brown, but I like to pop it in the oven and not think about it again (aside from swooning over the scent) until the timer goes off for good. And good—very good—is what we've found this bird to be. You don't have to use an organic, free-range chicken, but we've found that it pays off in both flavor and juiciness.
Fennel Blood Orange Salad with Miso Vinaigrette — I dare you to attach the word "deprivation" to this salad. The bitter blood orange, the earthy miso, the crunchy fennel, the hit of sweet juice and the bite of arugula all come together in a festival of flavors and textures. Top it with a mound of crab meat to make a gorgeous main course salad, or pair it with Simplest Roast Chicken or Crisp Cornish Game Hens.
Chicken and Mushroom Lettuce Cups — I find that finger food naturally slows down a meal and focuses attention. When you've got juice dripping down your wrist and have to reach over your neighbor for the lettuce platter, it's hard not to have the meal take on a different tenor.
Curried Mussels — I first fell in love with mussels years ago in France. Now, more and more, they're one of my go-to weeknight foods. Mussels cook up super fast, they produce a flavorful broth with very few added calories, they're at the top of the A-list in terms of sustainable seafood and, as if that's not enough, they're economical too.
Farfalle with Sausage and Arugula Pesto — Right about now, I get to craving the aromatic bliss of basil. But it's tough to find in winter, and tends to be somewhat bland–and expensive–if you do. My seasonal secret? I use arugula, which is abundant right now both in my garden and on market shelves. The fresher the arugula, the more pungent the whole experience will be; for even more punch, pound the pesto in a mortar and pestle.
Classic Blackened Catfish — This dish brings back memories of my college days in New Orleans when I used to make it at least once a week. Little did I know then that I was making a sustainable pick! I'll warn you from experience; your fire alarm will probably go off, so have a towel handy to fan the smoke away.
Crisp Cornish Game Hens with Pomegranate Honey Glaze — Removing the skin from the hens both decreases calories and increases the impact of this vibrant, spicy glaze. If you've never cooked with Cornish hens before, you're in for a treat.