By Kathleen Kanen
Ground nuts and a touch of whole-wheat pastry flour give this peach pie crust recipe a healthier edge. It also has less fat than traditional pastry, yet there's enough to make it satisfyingly tender. As with any pastry, handle the dough gently (so it doesn't get tough) and don't skip chilling it for 30 minutes. That helps the gluten relax and makes a more tender pie crust. I use the chilling time to peel the fruit and assemble the filling.
For variety, you can substitute cherries and/or blueberries for half the peaches. Taste the fruit first and adjust the sugar in the filling accordingly. Same goes for amount of flour in the filling. Really juicy peaches may need an extra tablespoon of flour; not so juicy, use less flour. This peach pie is is the essence of summer!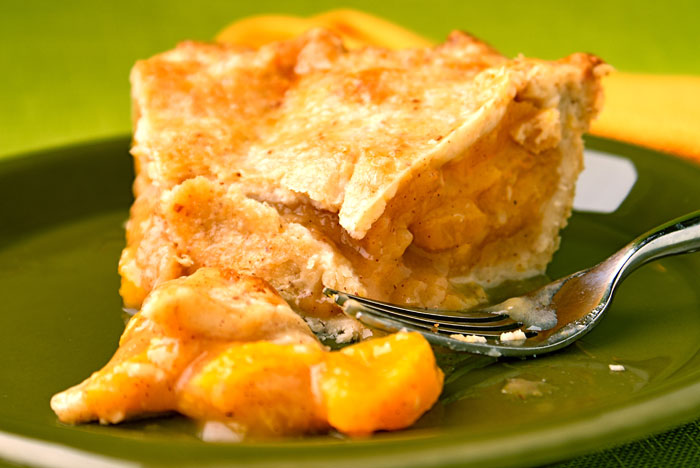 Pastry Dough:
1 1/3 cups all-purpose flour
2/3 cup white whole-wheat pastry flour
1/4 cup finely ground toasted walnuts or almonds
2 tablespoons granulated sugar
3/4 teaspoon salt
1/4 cup butter, chilled and cut into small pieces
1/4 cup vegetable shortening, chilled
6 to 8 tablespoons ice water
Filling and Finish:
6 cups sliced peeled fresh peaches (about 4 pounds)
6 tablespoons granulated sugar
1/4 cup all-purpose flour
1 tablespoon fresh lemon juice
1/2 teaspoon ground cinnamon
1/4 teaspoon ground nutmeg
1/8 teaspoon sea salt
1 tablespoon cold butter, cut into 6 pieces
Nonstick cooking spray
1 large egg white, lightly beaten
1 teaspoon water
1 tablespoon turbinado or granulated sugar
To prepare pastry dough, combine first 5 ingredients in the bowl of a food processor and pulse 2 times. Add 1/4 cup butter and shortening, and pulse 4 times, or just until mixture resembles coarse crumbs.
Transfer flour mixture to a large bowl. Add ice water, 1 tablespoon at a time, tossing with a fork just until moistened. Gently gather dough into a ball. Divide dough in half and press each portion into a 4-inch circle. Wrap each portion in plastic wrap and chill 30 minutes.
Preheat oven to 375 F.
While the dough chills, prepare the filling. Combine peaches, 6 tablespoons granulated sugar, 1/4 cup all-purpose flour, juice, cinnamon, nutmeg, and 1/8 teaspoon salt. Set aside.
Remove 1 portion of dough from refrigerator. Place dough between 2 sheets of plastic wrap and roll dough into a 12-inch circle. Refrigerate 15 minutes or until plastic can be removed. Repeat with remaining dough portion.
Remove top sheet of plastic from 1 dough portion. Place dough, plastic side up, in a 9-inch glass or ceramic pie plate (not deep dish) coated with cooking spray. Remove top sheet of plastic wrap, allowing ends of dough to extend over sides of pie plate. Spoon peach mixture into pie plate and dot with pieces of butter. Whisk together egg white and 1 teaspoon water. Lightly brush edges of dough with egg white mixture.
Remove plastic from remaining portion of dough and gently place dough over pie. Seal edges of dough and flute. Lightly brush top of dough with egg white mixture; sprinkle with 1 tablespoon turbinado sugar. Cut 6 slits in top of pie to allow steam to escape.
Bake at 375 for 50 to 55 minutes, or until pastry is golden brown and filling is bubbly. Lightly shield edges of pie with foil during last 10 minutes, if necessary. Cool completely on a wire rack.
Serves 8