Arctic char is a relative of salmon and trout, with flavor is somewhere between the two, and it has a luscious fattiness. The fish is native to chilly Arctic waters, and it's a good option for sustainable aquaculture since the fish are cultivated in closed recirculating tank systems, according to Paul Greenberg, author of Four Fish. I had a hot-smoked Arctic char salad similar to this one at the Los Angeles restaurant Ammo. This recipe demonstrates how easy it is to smoke fish on a standard grill. Serve the smoked arctic char warm or chilled. This recipe also works well with wild salmon.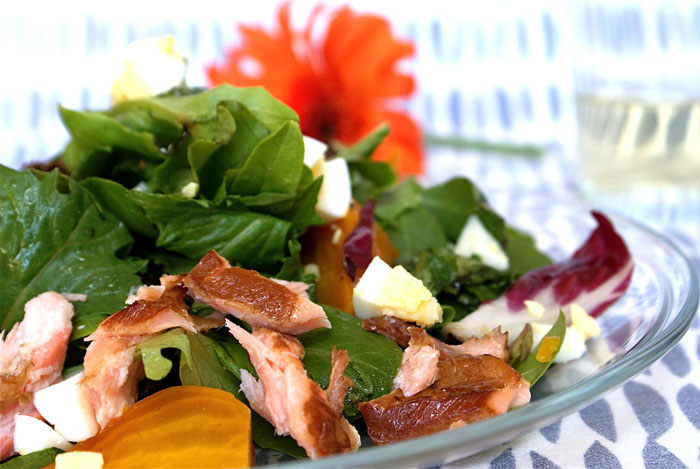 Arctic char:
1 quart boiling water
3/4 cup kosher salt
1/4 cup packed brown sugar
3/4 teaspoon freshly ground black pepper
1/4 teaspoon cayenne pepper
18 whole juniper berries, crushed
Zest of 1 lemon
1 bay leaf
1 (1-pound) Arctic char fillet
2 cups wood chips (hickory, applewood or cherrywood, etc.)
Canola oil
Remaining ingredients:
4 small golden beets
8 cups mixed salad greens
1/4 cup Mustard-Shallot Vinaigrette
1 hard-cooked egg, chopped
To prepare fish, combine first 8 ingredients in a medium saucepan, stirring to dissolve salt and sugar. Cool to room temperature. Add Arctic char to pan (if the fish bobs to the surface, weight it down with a small bowl). Cover, and refrigerate 3 hours.
Soak wood chips for 1 hour. Drain.
Preheat grill and set it up for indirect heat. For a charcoal grill, move ash-covered coals to one side of the grill, and add soaked, drained wood chips directly to the coals. For a gas grill, place the chips in a smoker box, or arrange chips on a sheet of heavy-duty aluminum foil, wrap, and poke holes in top of foil. Place the smoker box or foil packet directly on the heated burner. Heat chips 10 minutes or until they start to smoke.
Remove Arctic char from brine; discard the brine. Rinse fish thoroughly under cold running water. Pat fish dry. Brush skin side of fish with canola oil. Add fish, skin side down, to unheated side of grill. Cover, and smoke 10-15 minutes or until desired degree of doneness. Cooking time will depend on the thickness of the filet. Flake fish into bite-size pieces.
While the fish is brining, cook the beets. Preheat oven to 400 F.
Cut tops off the beets, leaving 1 inch of the stem. Wash, pat dry and wrap each beet in foil. Bake at 400 F for 30-40 minutes or until done (beets will be tender when you can pierce them with a thin, sharp knife). Let stand until cool enough to handle. Rub the skins off beets and trim away root ends. Cut each beet into 6 wedges.
Combine salad greens, beets and vinaigrette in a large bowl, tossing to coat. Divide evenly among 4 plates. Top evenly with smoked fish and chopped egg.
Notes
Prep Time: 3 hours (includes soaking time)
Serves 4