Larb is a type of salad made with minced or ground meat that's popular throughout Southeast Asia. This version uses chicken, but you could make it with duck or even pork or lamb. Serve this flavorful filling with lettuce or cabbage leaves and let everyone stuff their own to give a flavor of the communal nature of Thai, Lao, and Vietnamese meals.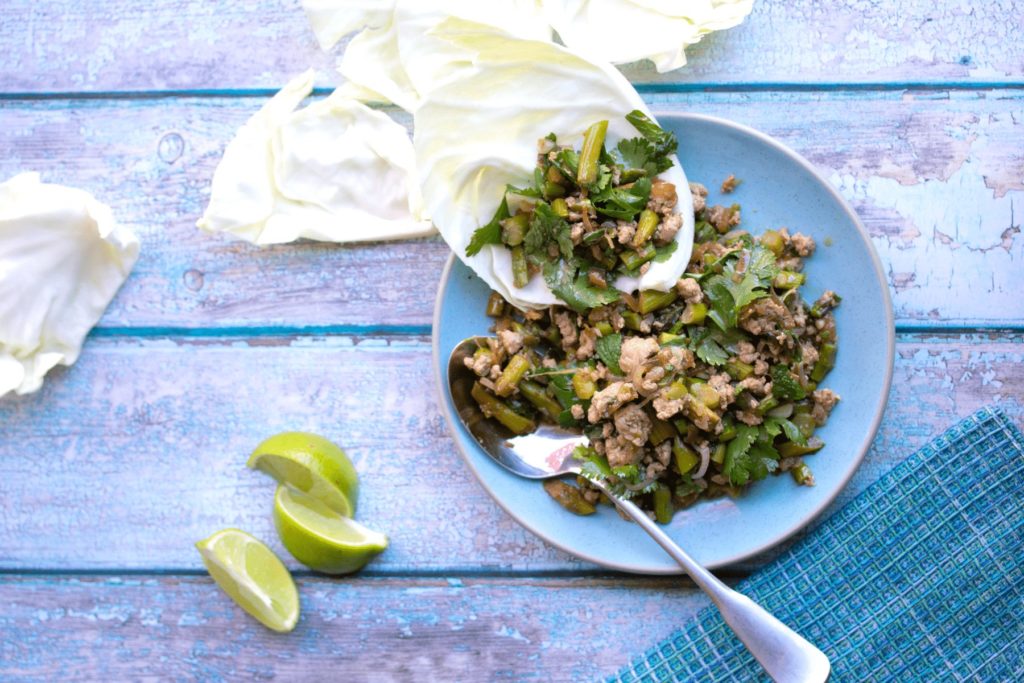 1-1/2 tablespoons grated lime rind
1/2 cup fresh lime juice
2 teaspoons grated lemon rind
2 tablespoons fresh lemon juice
2 tablespoons fish sauce
1-1/2 tablespoons brown sugar
1 teaspoon finely chopped serrano chile
1/4 teaspoon crushed red pepper
1 tablespoon canola oil
1 bunch asparagus, trimmed and coarsely chopped
1-1/2 pounds ground chicken (or turkey)
2 tablespoon minced shallots
1 cup coarsely chopped fresh mint
1 head romaine lettuce (or 1 head of cabbage), leaves separated
Combine first 8 ingredients, stirring until sugar dissolves.
Heat oil in a large skillet over medium-high heat. Add asparagus, chicken, and shallots, and sauté 5 minutes, stirring to crumble. Drizzle with juice mixture, stirring to coat. Turn into a bowl and mix with mint. Serve with lettuce or cabbage leaves and sticky rice, if desired.
Serves 4