I fell in love with these giant — gigantes — beans in Athens, where they're often served as part of a mezhedes appetizer spread. They're meaty, soaked through with flavor and thoroughly satisfying. To this day, my favorite way to enjoy them is still with toothpicks and a glass of ouzo.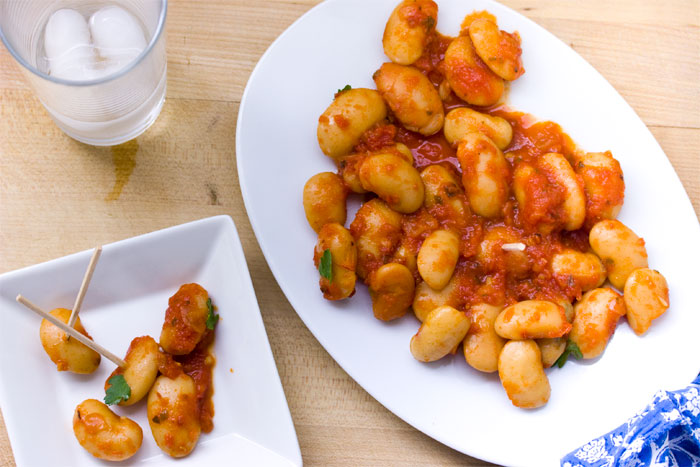 1 pound dried lima beans (the largest you can find)
3 tablespoons extra-virgin olive oil
1 medium onion, grated on a large grater
5 cloves garlic, grated on a large grater
1 (28-ounce) can crushed tomatoes
18 ounces water
2 tablespoons minced fresh dill
1 teaspoon dried oregano
Sea salt and freshly ground black pepper, to taste
1/4 cup minced fresh parsley
In a large pot, cover beans with cold water and soak overnight (or do a quick soak in a pressure cooker by covering with 3 inches of water, sealing and cooking at high pressure for three minutes before cooling). Drain and rinse well. Return beans to the pot, cover again with cold water and bring to a boil. Lower heat and simmer for 60-90 minutes, until tender.
While beans are cooking, preheat oven to 350 degrees F. Heat oil in a Dutch oven or large saute pan over medium heat over the stove. Saute the onion and garlic for 5 minutes, until translucent and fragrant. Add the tomatoes, water, dill, oregano, salt and pepper, and bring to a simmer.
When beans are tender, drain, reserving 2 cups of liquid. Stir them into the tomato mixture, coating well (add some of the bean liquid if there's not enough sauce), and transfer to the oven, uncovered. Bake for 30-40 minutes, until beans are tender, adding more of the cooking liquid if needed.
Notes
Prep Time: 8 hours (includes overnight soaking time)
Cook Time: 1 hour, 30 minutes to 2 hours, 10 minutes
Serves 10