Summer always seems to imply a certain amount of leisureliness. Multicourse dinners that linger as twilight shimmers its way into dusk. Weekend picnics that morph from lunch right into supper.
But it doesn't always turn out that way.
Sometimes work keeps you until well after the sun sets. Sometimes kiddos babble or fuss until you can barely pull together your thoughts, much less a full-blown meal. It just so happens that both of those scenarios came into play the other day, which prompted me to pull together a list of my lickety-split, go-to dishes.
Here are eight of our favorites that come together in 20 minutes or less.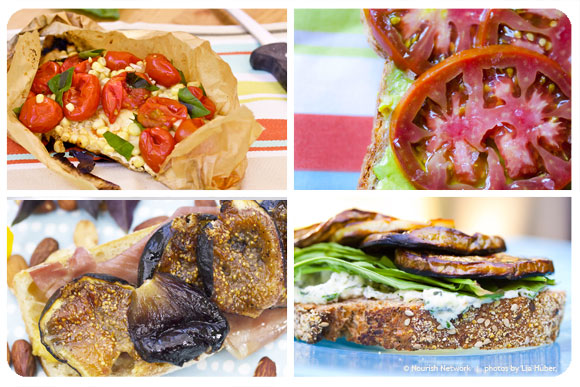 Grilled Fish in Parchment with Cherry Tomatoes and Corn
Flaky white fish are tough to grill, but that doesn't mean they need to be left out of the summer repertoire. Here's how …
Open-Faced Tomato Avocado Sandwich
This sandwich embodies all sorts of nutritional virtues: whole grains, healthy fats and fresh vegetables. But really it does even more than that . . . it exemplifies how enjoyable even the simplest fresh food can be.
Obscenely Good Eggplant-Ricotta Tartine
This sandwich should come with a rating–and not because it's topless (tartine is the French word for open-faced sandwich), but because it's that good.
Honey-Roasted Fig Tartine with Prosciutto
Drizzling figs with honey and popping them under the broiler gives them an impromptu jammy quality; especially good paired with gooey cheese and crisp prosciutto.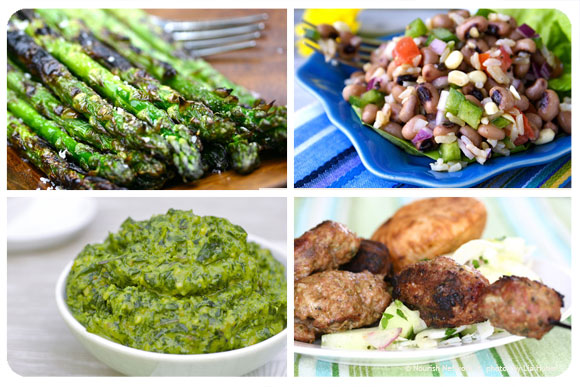 Alberto's Grilled Marinated Asparagus
Use this asparagus–easy and addictive–as part of an antipasto dish, tossed with pasta, or simply for snacking on out of hand.
Mississippi Caviar with Black-Eyed Peas & Cider Vinaigrette
This zesty, summery dish comes together in a flash when you use steamed, ready-to-eat black-eyed peas and precooked brown rice. A perfect summer salad or side.
Big City Souvlaki
When I lived on Corfu, souvlaki meant skewered cubes of grilled, marinated pork. But on a trip through Athens seeking out the best street food and mezedhes, we found this lamb version to be utterly addictive; moist and tender with just the right amount of spice.
Asian Pesto
I first developed this recipe out of desperation with an abundance of end-of-the-season Asian basil (it freezes wonderfully). Now it's one of our summer staples … especially now that Noemi loves being in on the action.
What's your go-to summertime supper that helps you unwind at the end of a hot, crazy day? Let us know!