Right about now, I get to craving the aromatic bliss of basil. But it's tough to find in winter, and tends to be somewhat bland–and expensive–if you do. My seasonal secret? I use arugula, which is abundant right now both in my garden and on market shelves. The fresher the arugula, the more pungent the whole experience will be; for even more punch, pound the pesto in a mortar and pestle. This recipe makes a double batch of arugula pesto. The extra will keep in the fridge for up to 3 days, or you can freeze it for up to 6 months. This garlicky, spicy pesto is terrific with roast chicken, as a sandwich spread or dolloped on crostini with goat cheese.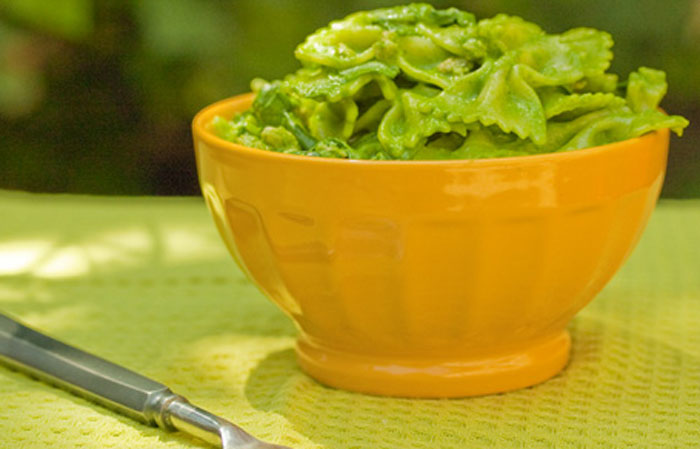 Arugula Pesto:
2 cups arugula, trimmed
4 cloves garlic, mashed
3 tablespoons toasted pine nuts
2 tablespoons chicken stock
1 tablespoon lemon juice
1 teaspoon crushed red pepper
1 tablespoon white wine vinegar
2tablespoons extra virgin olive oil
1/4 cup grated Parmesan cheese
Kosher salt, to taste
(makes a double batch of pesto)
Pasta:
2 spicy Italian chicken sausages, removed from casing
1/2 pound farfalle pasta (preferably whole wheat)
Kosher salt, to taste
2 cups arugula, trimmed
To make arugula pesto, blend first 7 ingredients (through vinegar) in a blender or food processor until smooth. Slowly pour in olive oil until the mixture has formed an emulsion. Pulse in cheese, season to taste with salt, and set aside.
To prepare pasta, saute sausage in a large pot over medium heat until browned, breaking up into pieces with the edge of a spatula. Set sausage aside to drain on paper towel and wipe out the pot. Fill the pot with water and bring to a boil with a generous pinch of salt.
Cook pasta according to package directions, and drain. Toss pasta with arugula, sausage and 1/2 the pesto, and serve.
Serves 4