This cherry dessert is great to make when you're stalled between fruit seasons. Frozen organic fruit is preserved at its peak and is a great time-saver when you want a quick dessert. Don't let the number of ingredients fool you–this crumble comes together in a snap.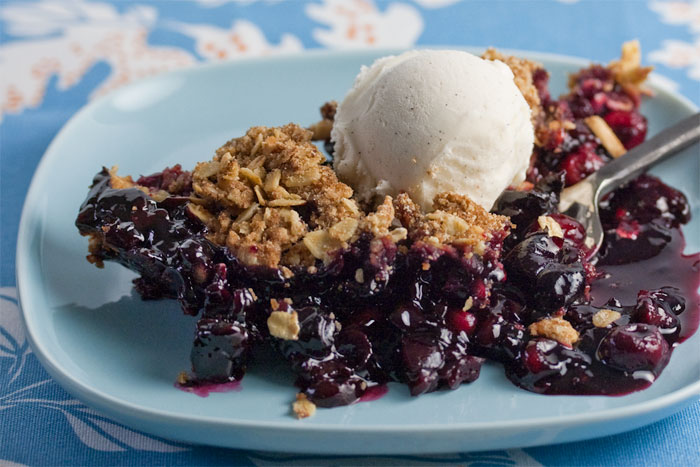 4 cups fresh (pitted) or frozen (thawed) sweet cherries
2 cups fresh or frozen (thawed) cranberries
1/2 cup sugar
1/4 cup dried cranberries, chopped
1/4 cup dried cherries, chopped
1 tablespoon whole wheat flour
1 1/2 teaspoons cornstarch
1/4 cup slivered almonds, toasted
1/4 cup rolled oats
1/4 cup whole wheat flour
1/4 cup packed brown sugar
1/4 teaspoon salt
1/8 teaspoon ground nutmeg
1/8 teaspoon ground cinnamon
1/8 teaspoon almond extract
3 tablespoons chilled butter, cut into small pieces
Preheat oven to 375 degrees F.
Combine first 7 ingredients in a bowl, tossing gently to coat fruit. Spoon mixture into an 8-inch square baking dish.
Combine almonds and the next 7 ingredients (through extract) in another bowl. "Rub" in butter with your fingertips until the mixture resembles coarse sand. Sprinkle oat mixture evenly over cherry mixture.
Bake for 45 minutes or until filling is bubbly and topping is golden.
Serves 8