A few things set this apple pie apart. Sauteing the apples in browned butter, then letting them cook down with sugar, a touch of lemon juice and Chinese five spice results in a filling reminiscent of caramel apples. Chinese five spice powder is a blend of cinnamon, cloves, fennel, star anise and Szechuan peppercorns, and it lends the filling a bright note. You can substitute 1/2 teaspoon ground cinnamon and 1/4 teaspoon each of ground ginger and cloves. Because the filling is cooked, this recipe calls for blind-baking the crust. You can use blind baking beans or dried beans (which you can cool after baking and reuse for future blind-baking). A sprinkling of crumb topping adds extra texture and sweetness.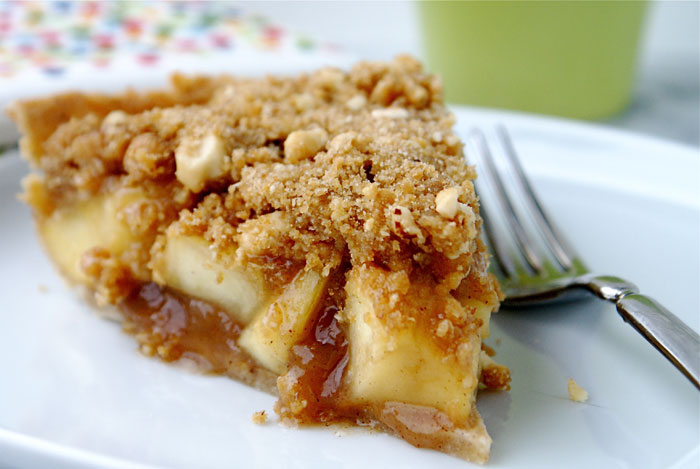 Filling:
2 tablespoons butter
2-1/2 pounds sweet, firm apples, peeled and cut into 1/2-inch slices
3/4 cup granulated sugar, divided
1/4 cup water
1 tablespoon cornstarch
1 teaspoon Chinese five spice
2 teaspoons fresh lemon juice
1/8 teaspoon sea salt
Topping:
1/2 cup white whole wheat pastry flour
1/3 cup packed brown sugar
1/3 cup coarsely chopped hazelnuts OR almonds
1/4 cup cold butter, cut into 1/4-inch pieces
1/8 teaspoon sea salt
1 tablespoon fresh orange juice
Remaining Ingredient:
1/2 recipe Toasted Nut Pastry Dough, chilled
Cooking spray
Preheat oven to 350 degrees F.
To prepare filling, heat a large saute pan over medium-high heat. Add butter to pan, and cook 2 minutes or until browned (keep an eye on it so it doesn't burn). Add apples and 1/4 cup granulated sugar. Reduce heat to medium, and cook 7 minutes or until apples are tender but not mushy, stirring occasionally.
Combine water and cornstarch, stirring to form a smooth slurry. Add to pan and bring to a boil. Cook 1 minute. Add remaining 1/2 cup granulated sugar, five spice, lemon juice and 1/8 teaspoon salt. Cook 3-5 minutes or until liquid is thickened.
While filling cooks, prepare the topping. Combine flour and next 4 ingredients (through 1/8 teaspoon salt) in a medium bowl, rubbing them together with your fingers until they form coarse crumbs. Add orange juice, tossing with a fork. Set aside.
Remove dough from refrigerator. Place dough between 2 sheets of plastic wrap and roll dough into a 12-inch circle. Refrigerate 15 minutes or until plastic can be removed. Discard top sheet of plastic. Place dough, plastic side up, in a 9-inch glass or ceramic pie plate (not deep dish) coated with cooking spray. Remove plastic wrap, allowing ends of dough to extend over sides of pie plate. Trim edges of dough. Prick bottom of dough with a fork. Line bottom of dough with a 12-inch-square piece of parchment paper. Fill with dried beans and blind baking beans. Bake 10 minutes. Remove baking beans and parchment. Bake an additional 7 minutes or until crust looks set.
Scrape filling into crust. Cover with topping. Bake 10 minutes. Cool on a wire rack.
Serves 8