This rice pilaf recipe is an easy side dish that uses red-and-brown Indonesian Volcano Rice, which is cultivated in mineral-rich volcanic soil and is high in magnesium, manganese and zinc. You can substitute any brown rice. We added seasonal fresh English peas for color; edamame, fresh green chickpeas or thawed frozen peas would work well, too. To cook fresh peas, blanch them in boiling water for 2 minutes or until tender but not mushy, drain, and rinse in cold water.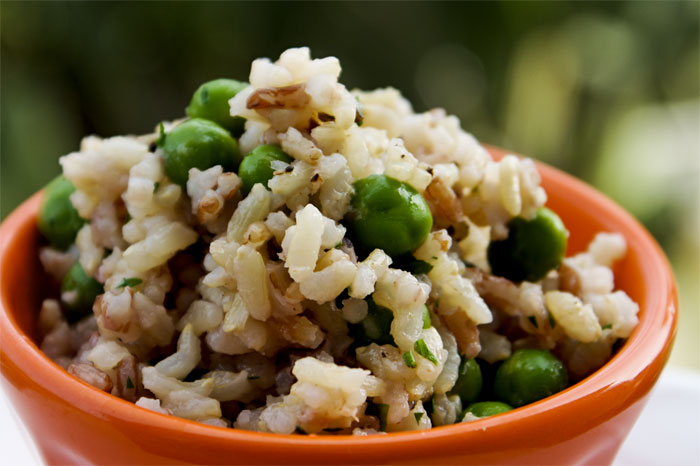 1 teaspoon canola or olive oil
1/4 cup finely minced onion
1 cup Indonesian Volcano Rice or any brown rice
1-3/4 cups water
Sea salt
1 bay leaf
1 cup cooked fresh English peas OR 1 cup thawed frozen green peas
2 tablespoons chopped flat-leaf parsley
Freshly ground black pepper to taste
Preheat oven to 350 F.
Heat oil in a large saucepan over medium-high heat. Add onion and sauté 2 minutes or until tender. Add rice and sauté 1 minute. Add water, salt and bay leaf; bring to a boil. Cover, transfer to oven, and bake for 30 minutes.
Remove from oven and fluff with a fork. Cover and let stand 10 minutes. Discard bay leaf, and stir in peas and parsley. Add pepper to taste.
Serves 6