We typically think of ramen as a brothy dish, but brothless dry ramen — aka mazesoba — is trending here in the States. Basically, it's the ramen noodles you know and love paired with a quick, flavorful sauce (typically made with pork, but we use ground turkey here). This dry ramen features our Sticky-Spicy Sauteed Asian Eggplant. You also could use 2 cups of any leftover cooked vegetables you have on hand.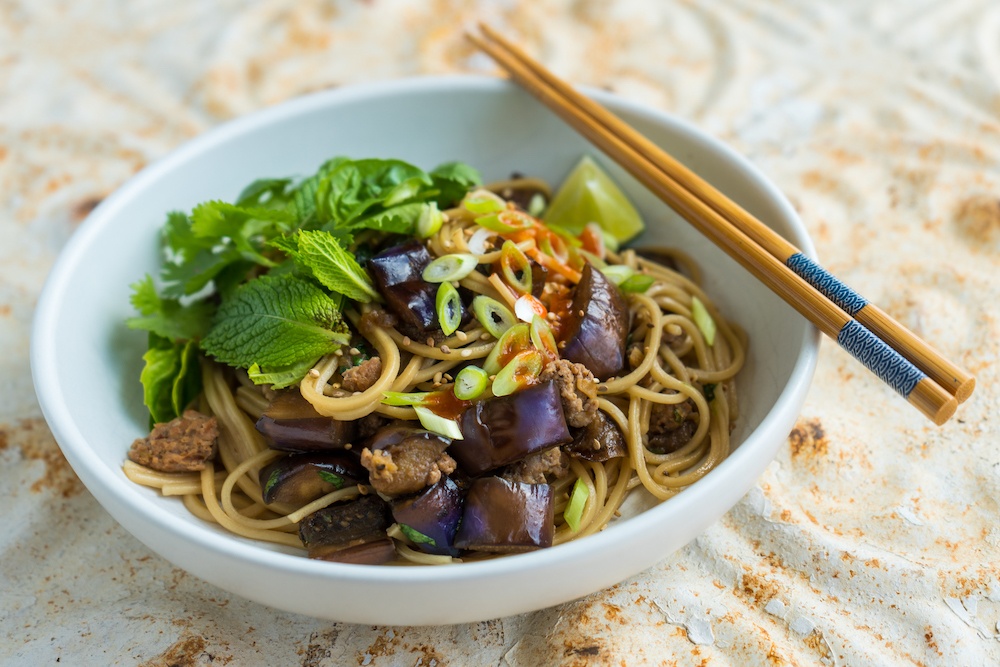 8 ounces organic ramen noodles (or instant or rice noodles)
1 tablespoon canola oil
1 tablespoon shallot, minced
1 tablespoon fresh ginger, minced
1 clove garlic, minced
½ pound ground turkey (or chicken, beef or pork)
1 tablespoon fish sauce (or soy sauce)
1½ teaspoons coconut sugar
¼ teaspoon red pepper flakes
½ recipe Sticky-Spicy Sauteed Asian Eggplant (about 2 cups)
1 lime
2 green onions, thinly sliced
2 tablespoons sesame seeds, toasted
½ cup cilantro leaves
½ cup mint leaves
½ cup basil (Asian or Italian)
Sriracha sauce (optional)
Cook noodles according to package directions just until al dente. Drain, reserving ½ cup cooking water.
Meanwhile, heat oil in a skillet over medium-high heat. Add shallot, ginger, garlic and turkey, stirring to crumble turkey. Stir in fish sauce, coconut sugar and red pepper flakes. Cook 3-4 minutes or until turkey is browned. Add 2-3 tablespoons ramen cooking water and eggplant, scraping the pan to loosen any browned bits. Add drained noodles, zest and juice of ½ lime, tossing to coat. Add more ramen cooking water, a few tablespoons at a time so the mixture is well coated and slightly saucy, but not soupy.
Divide among 4 shallow bowls. Top evenly with green onions and sesame seeds. Garnish generously with herbs. Cut remaining ½ lime into wedges. Serve with noodles, along with Sriracha, if desired.
Serves 4
Prep time: 15 min
Cook time: 8 min