This show-stopping cobbler recipe–featuring peak-of-season nectarines and blackberries–has half the sugar and butter you'd find in a regular cobbler recipe, yet packs a much richer flavor thanks to whole oats, raw coconut, sour cream and lemon zest.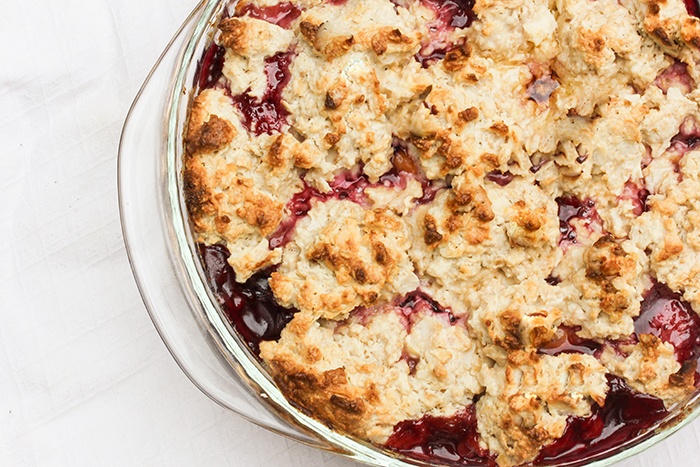 1 cup oats
1/2 cup raw coconut
3/4 cup whole wheat pastry flour, divided
1/2 cup sugar
1/2 teaspoon baking powder
sea salt
1/2 stick butter, chilled and cut into 1/2-inch cubes
2/3 cup light sour cream
1-1/2 pounds nectarines, cut int 1-inch wedges
3/4 pound blackberries
1 teaspoon vanilla
juice and zest from 1 lemon
Preheat oven to 350 degrees F.
Mix oats, coconut, 1/2 cup flour, 1/4 cup sugar, baking powder and a pinch of salt together in a large bowl. "Pinch" in butter with your fingertips until flour starts to come together into pebble-sized bits. Mix in sour cream just until a dough forms.
In a separate bowl, combine remaining 1/4 cup sugar, all the fruit, vanilla, lemon juice and zest and remaining 1/4 cup flour. Stir to mix.
Pour fruit mixture into an 8-inch square or round glass baking dish. Dollop topping dough evenly over fruit.
Bake 35-45 minutes, until topping is cooked through and golden brown.
Let cool before serving.
Serves 10