This is one of my favorite basic recipes. I use these white beans in salads with tuna, in pasta, and often as a main dish … they're almost to good to serve as a side! A couple of notes: 1) use any kind of white bean you want for this–just be aware you may need to adjust the cooking time depending on type of bean; 2) these freeze really well, so bag up whatever you don't eat right away to have on hand; and 3) you can use all water or any combination of water and whatever kind of broth you might have on hand–vegetable, chicken, mushroom, whatever–adding broth adds flavor.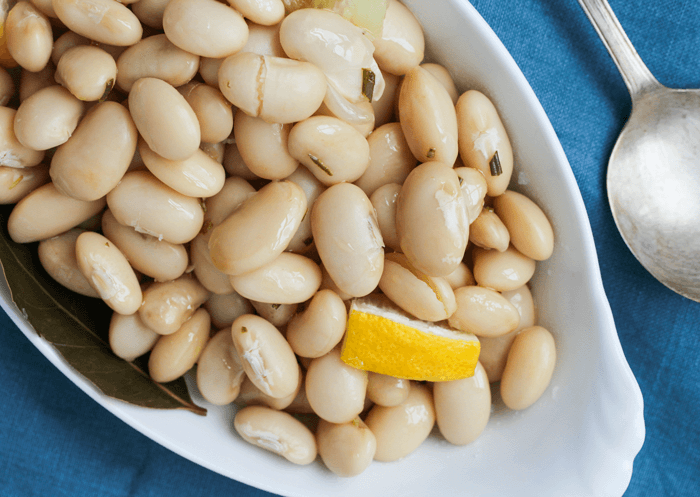 1 pound dried white beans, soaked overnight or with a pressure cooker
1/2 medium onion, peeled and cut in half lengthwise
3 cloves garlic, smashed
2 tablespoons minced rosemary, divided
2 bay leaves
1/2 lemon
6 cups water
Sea salt, to taste
1 tablespoon extra-virgin olive oil
Place the beans, onion, garlic, 1 tablespoon rosemary, bay leaves, lemon, water and a generous pinch of salt in a large pot (you want the beans covered by about 1-1/2 inches of liquid, so if you need to add more go ahead and do so).
Bring to a boil. Cover and reduce heat to low. Simmer for 45 to 90 minutes, depending on your beans. They should be tender all the way through without losing their shape. Uncover and let cool in their liquid.
Drain the beans (the liquid makes a great broth in itself!) and remove bay leaves, lemons and onion. Spoon beans into a serving dish and drizzle with olive oil and sprinkle with remaining 1 tablespoon rosemary.
Serves 10