My, my, my … there's been a tizzy of discussion as of late about how misguidedly futile it is to be a locavore. Which, I'll be quite frank, annoys me a titch. I think one of the downfalls we face time and again in America is that we jump on bandwagons and ride them hard to the end of the road until they fall apart in a heap. We don't seem to learn that what starts out as something inherently positive—buy organic, buy local, buy wild-caught—turns sour when all other options are ruled out as blasphemy.
Which is what I feel is happening with the organic versus local versus (now) low carbon footprint discussions. First of all, not everyone who sources their food locally is doing so because they think it will save the planet (as we found out when we asked you to weigh in, both here and on Facebook). That, in perfect bandwagon style, is lopping off big chunks of the big picture.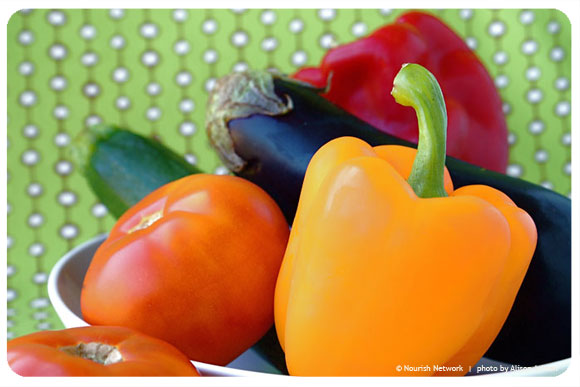 Many people I know, myself and other NOURISH Evolution members included, buy food from local growers because it fosters community and connects us deeper to the place we call home. We also do it because we can ask farmers how they're growing their food, and ranchers how they're raising their livestock. Not to mention the fact that a locally-based food system (bear in mind this could mean regional sourcing … it doesn't need to mean Farmer John down the street) may just be safer too.
So how do you keep from swaying from 'got to buy local' to 'got to buy organic' to throwing your hands up in exasperation? Ask yourself what's important to you.
Is a low carbon footprint top on your list? Then you should probably start a garden of your own and, while you're at it, seriously consider cutting down on how much meat you eat. Are chemicals and genetic modification what concern you most? Then you'll want to stick with certified organic, or buy from farmers directly—organic or not—so you can ask them how they grow their food. Is supporting your community what excites you? Then suss out farmers markets and give a few CSAs a try.
This isn't to say that you can't challenge yourself to move in other areas as well. I'm awfully dialed in on sourcing food that's free from conventional chemicals and manipulation, but I could certainly grow in the lowering my carbon footprint department. I drive to town all the time, for example, when I could easily bike the few blocks to market (I even bought a basket and pumped up my tires … now I just need to do it).
The important thing is to make an informed choice of your own, not blindly follow what someone else says … no matter how virtuous it may sound.