When I worked in the travel industry, I used to randomly jet off for the weekend on my own. One time, during an especially long New York winter, I went to Miami. What I remember most vividly aren't the beaches, but a dish of arroz con pollo I had sitting at the counter at a Cuban diner my friend Luisa had told me about. I set out to replicate the flavors in this classic chicken casserole here, substituting millet–a bouncy little whole grain–for the rice. Ah … now if only I could replicate those travel benefits!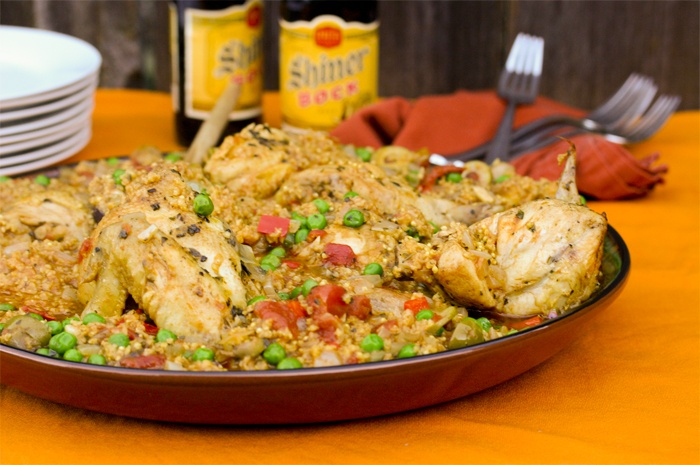 1 tablespoon cumin, divided
1 tablespoon oregano, divided
Sea salt and freshly ground black pepper
2 chicken drumsticks, 2 thighs and 2 chicken breast halves
1 tablespoon plus 1 teaspoon olive oil, divided
1-1/2 cups millet
1 large onion, chopped
4 cloves garlic, smashed and coarsely chopped
1 large red bell pepper, diced
1 (14-ounce) can diced tomatoes, drained
1 (12-ounce) bottle of beer (I used Shiner Bock)
2-1/2 cups low-sodium chicken broth
1 bay leaf
1 tablespoon ground annatto*
2 cups frozen peas
1/2 cup large pimento-stuffed green olives, sliced crosswise
Preheat oven to 350°F.
In a small bowl, mix together 1 teaspoon cumin and 1 teaspoon oregano with a generous pinch of salt and black pepper. Cut each chicken breast in half crosswise. Sprinkle all chicken pieces with spice mixture.
Heat 1 teaspoon olive oil in a Dutch oven over medium heat and toast the millet for 3-4 minutes, until fragrant and a shade darker. Pour the millet into a bowl, return the pot to the burner and add 1 tablespoon olive oil. Brown the chicken on all sides in two batches, about 5-8 minutes per batch. Transfer chicken to a plate as done. Pour off all but 1 tablespoon of fat and add onion, garlic and bell pepper to the pot. Saute 5-8 minutes, until softened and translucent.
Pour tomatoes, beer and chicken broth into the pot, and add the remaining 2 teaspoons of cumin and 2 teaspoons oregano along with the bay leaf, annatto and another pinch of salt and pepper. Bring to a boil and nestle the chicken legs and thighs into the liquid. Cover and transfer to the oven. Cook 10 minutes.
After the dark meat has cooked 10 minutes, take the pot out of the oven, uncover and scrape in the millet. Stir well and nestle the rest of the chicken into the liquid in as close to a single layer as you can get it. Cover and cook another 30 minutes.
Remove the pot from the oven and uncover. Scatter the frozen peas and olives on top, cover and let rest for 10 minutes before serving.
Serves 10
PS — I like to squeeze a lime onto both this dish and the beer I'm drinking with it.

* Annatto powder comes from the achiote seed and is slightly sweet, slightly bitter. It's also what gives this dish its golden hue. You can find annatto powder (you could also use the same amount of achiote paste) in the spice section of your grocery store, or in Mexican markets. If you can't find it or don't want to buy it, no worries. You can substitute equal amounts turmeric and paprika, or just go without. Your millet just won't be as gold.