These cutlets are a simplified version of chicken Milanese, using a flavorful schmear of Dijon mustard instead of an egg and dredging the chicken in one coating of bread crumbs. 
Use dry breadcrumbs (gluten free is fine) vs. panko, which has a coarser texture. If you have panko on hand and want to use those, blitz them in food processor or blender for a few pulses so they're a finer texture that will adhere better to the chicken.
These days, even organic chicken breasts are Dolly Parton size, so we're suggesting you purchase 2 breast halves to serve 4. If your market sells chicken cutlets, by all means, use those (you'll need to buy 4 cutlets), and skip the step of butterflying/pounding the chicken.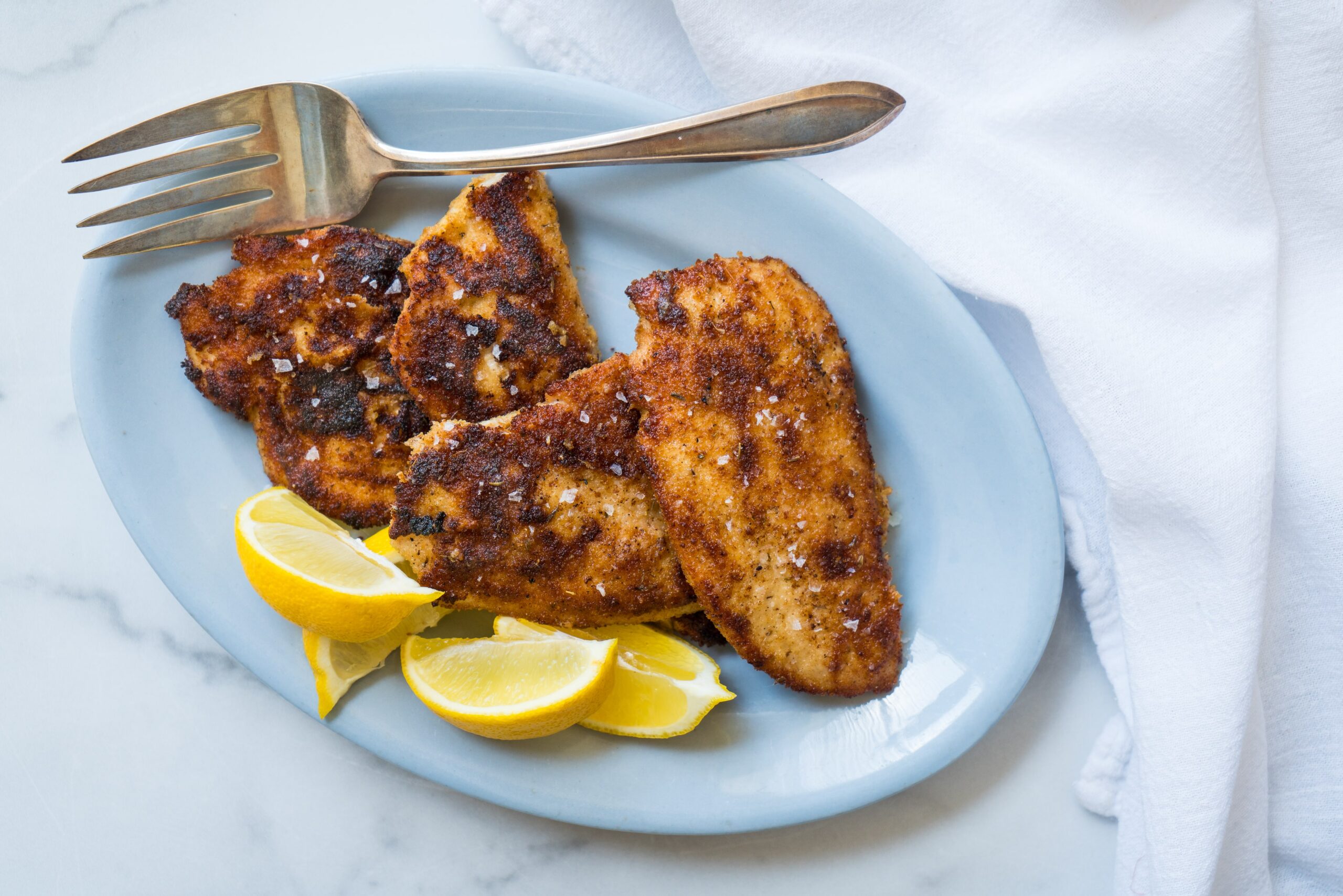 3/4 cup bread crumbs (regular or gluten free)
1 teaspoon dried thyme
sea salt and freshly ground black pepper, to taste
2 skinless, boneless chicken breast halves
2 tablespoons Dijon mustard
3 tablespoons extra virgin olive oil (or canola oil)
flake sea salt (such as Maldon, optional)
1 lemon, cut into 4 wedges (optional)
Place the bread crumbs and thyme in a shallow bowl. Season generously with salt and pepper, and stir to combine.
Lay 1 breast half on a cutting board. Holding it steady with one hand, hold a sharp knife parallel to the cutting board, and cut through the breast to butterfly it. Open it up like a book, and cut it into 2 pieces. Repeat with remaining chicken breast. You want each piece to be ½ to ¾ inch thick and an even thickness. If needed, you can cover the chicken with a piece of waxed or parchment paper, and lightly pound it with a meat mallet, heavy skillet or a rolling pin to even out the thickness.
Pat chicken very dry with paper towels. Spread mustard evenly on both sides of chicken. Dredge chicken in bread crumb mixture, pressing well to adhere.
Heat a large nonstick or well-seasoned cast-iron skillet over medium-high heat. Add oil, swirling to coat the pan. Working in batches to avoid overcrowding the pan, add chicken to the pan. Cook 3-5 minutes per side, undisturbed, or until chicken is done, golden and crispy. If desired, sprinkle with flake sea salt and serve with lemon wedges.
Serves 4