This polenta bridges the gap from summer to fall. Starchy, last-of-the-season fresh corn is ideal for this polenta recipe, giving it a natural creaminess, while the vanilla brings out its sweetness.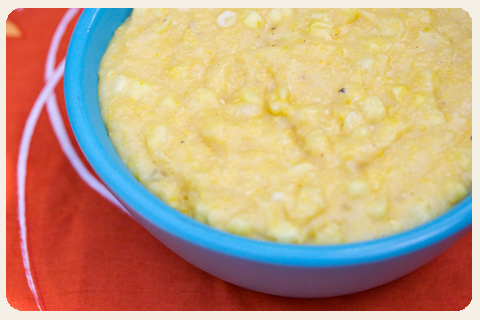 1 tablespoon butter
1/2 cup onion, finely chopped
4 cups corn, (roughly 4 ears), divided
1 cup polenta
4 cups water
3/4 teaspoon kosher salt
3/4 cup lowfat milk
1 vanilla bean, split
Dash nutmeg
Preheat oven to 350 F.
Melt butter in a large saucepan over medium heat and sauté onion and 2 cups corn kernels for 5 minutes, until onion is translucent. Stir in polenta and coat with butter. Whisk in water and salt, and bring to a boil. Transfer pot to oven (uncovered) and cook 30 minutes.
Puree remaining 2 cups corn kernels and strain and reserve liquid. Discard solids. Pour corn juice and enough milk to collectively measure 1 cup into a small saucepan. Scrape the seeds from the vanilla bean into the liquid, and add the pod and nutmeg. Bring to a gentle boil over medium heat, remove from heat and let steep with the vanilla bean for 10 minutes. Remove bean.
Carefully remove polenta pot from oven and whisk in milk mixture. Return to oven and continue cooking another 20 minutes. Remove from oven, whisk again, and serve.
Serves 4