This mushroom soup employs an old restaurant strategy of using affordable button or cremini mushrooms, for the base, then garnishing with more expensive fungi. You can cook the soup, cool to room temperature and refrigerate the base and mushrooms for garnish in separate containers. Gently warm it up over medium-low heat. Serve in little teacups, demitasse cups or even shooters. This is lovely with Manchego and Nutmeg Gougeres.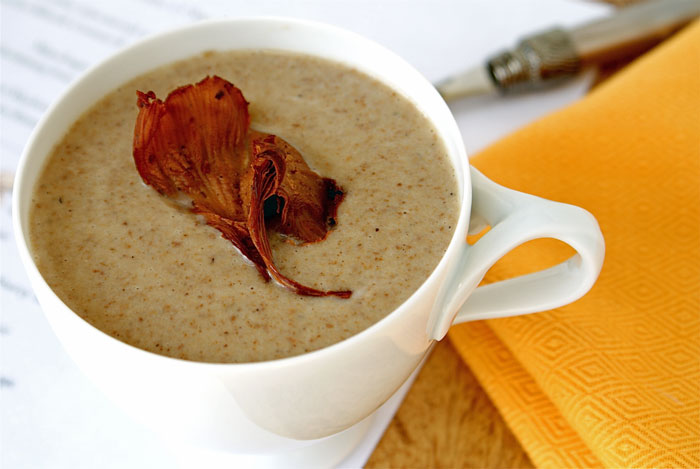 1 ounce dried mushrooms (such as chanterelles, porcini, oysters or a mix)
1-1/2 cups chicken stock
1 tablespoon olive oil, divided
sea salt to taste
8 ounces fresh cremini or button mushrooms, chopped
1/2 cup finely chopped shallot
Freshly ground black pepper
1 garlic clove, minced
1/2 cup sherry
1 tablespoon all-purpose flour
1/2 cup heavy whipping cream
Place dried mushrooms in a medium bowl. Cover with 2 cups hot water, and let stand 30 minutes. Drain mushrooms, reserving soaking liquid. Combine soaking liquid and stock in a saucepan over medium heat. Bring to a simmer and keep warm (do not boil).
Heat a medium saucepan over medium heat. Add 1-1/2 teaspoons oil to pan. Add rehydrated mushrooms. Sprinkle with salt and cook 2-4 minutes or until mushrooms are tender, stirring frequently. Transfer mushrooms to a bowl. Set aside approximately 1/2 cup of the prettiest specimens to use for garnish.
Heat remaining 1-1/2 teaspoons oil in pan. Add fresh mushrooms and shallot. Sprinkle with salt and pepper; cook 2-4 minutes or until tender, stirring frequently. Add garlic; cook 30 seconds or until fragrant. Increase heat to medium-high, and stir in the sherry. Simmer 3 minutes or until liquid is reduced by half. Whisk flour into stock mixture. Stir stock mixture into mushroom mixture, and bring to a boil. Reduce heat to medium-low, and simmer 30 minutes. Add reserved rehydrated mushrooms (except the ones you're using for garnish). Puree soup in a blender or food processor until smooth (or use an immersion blender to puree it in the pot). Stir in cream and adjust seasoning as needed. Ladle soup into cups and garnish with reserved rehydrated mushrooms.
Yields about 4 cups; serves 6-8