This double batch of spiced mahogany granola is good enough to eat on its own. To turn it into home-cooked gifts, simply package it in paper coffee sacks and a bit of ribbon. For more easy gift ideas, check out our 6 Homemade Spice Blends. We've got savory, spicy and sweet options, so there's something for everyone on your list!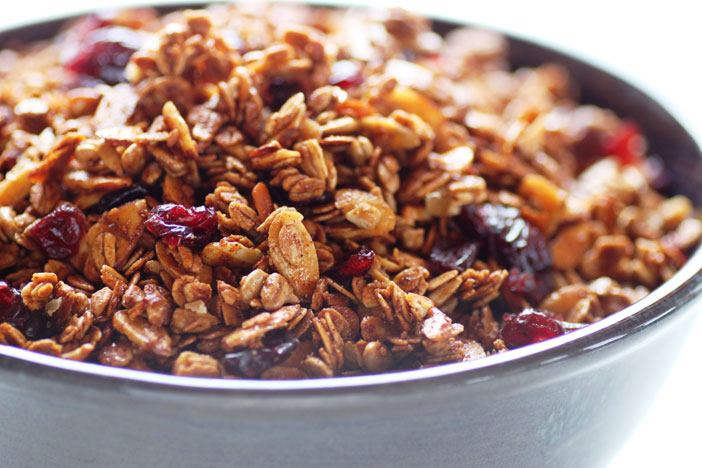 1/2 cup honey
6 tablespoons maple syrup
6 tablespoons molasses
1/2 teaspoon vanilla extract
1/2 teaspoon cinnamon
1/2 teaspoon ground ginger
1/2 teaspoon ground cloves
1 teaspoon salt
1/4 cup canola oil
4 cups rolled oats
2 cups sliced almonds
1 cup raw sunflower seeds
1-1/2 cups sweetened dried cranberries
1/4 cup diced crystallized ginger
Preheat oven to 300 degrees F. Grease 2 rimmed baking sheets.
Combine first 9 ingredients in a large bowl. Stir until thoroughly mixed. Add oats, almonds and sunflower seeds, tossing to combine.

 Divide mixture evenly between baking sheets and place in oven on two centermost racks. Bake 45 minutes, stirring every 15 minutes and rotating pans between racks. Remove from oven and toss with cranberries and crystallized ginger. Granola will dry as it cools. Once cool, store in an airtight bags or containers. Keeps for several weeks.
Makes about 10 cups