By Cheryl Sternman Rule
Lentils are a staple food in Eritrea, and every time I prepare them I recall my years there.  Adding cubed roasted pumpkin lends this soup vibrant color and transforms it into an ideal Thanksgiving starter.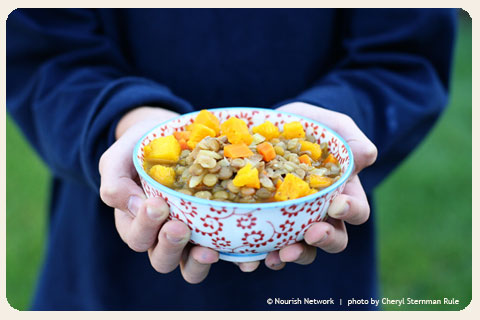 One 2-pound "pie" pumpkin (also called sugar pumpkins or sugar pie pumpkins)
2 cups brown lentils, sorted and rinsed
Two 14-ounce cans low sodium chicken broth (you may substitute chicken stock or vegetable stock)
Water
3 tablespoons olive oil
3 large carrots, diced
1 medium onion, diced
1 teaspoon sea salt, divided
Freshly ground black pepper
4 garlic cloves, minced
1-1/2 teaspoons ground cumin
3 tablespoons fresh lemon juice, or to taste
Preheat oven to 400 degrees. Using a heavy knife, cut the pumpkin in half.  Use a serrated grapefruit spoon (or a regular spoon) to scrape out the seeds and all the strings.  Discard.
Line a rimmed baking sheet with foil and coat it with nonstick spray. Lay the pumpkin halves cut side down and roast for 25 to 30 minutes, or until fork tender but not mushy.  Remove from oven and remove the peel in large swaths using tongs. Season both sides with sea salt (1/4 teaspoon total) and a grinding of black pepper. Turn pumpkin halves cut side up and let cool completely. Dice.
While the pumpkin roasts, start the soup. Combine the lentils, broth, and 4 cups of cold water in a soup pot.  Bring to a boil over high heat.  Reduce heat, cover, and simmer gently until lentils are tender but not mushy, about 25 minutes.
While the lentils summer, heat the oil in a large skillet over medium heat. Add the carrots, onions and a pinch more slat and pepper. Cook, stirring occasionally, until the vegetables begin to brown, about 15 minutes.  Add garlic and cumin and cook, stirring constantly, for 30 seconds longer.
When lentils are ready, stir the carrot mixture and diced pumpkin into the soup pot.  Season with the lemon juice, and adjust salt and pepper to taste.
Serves 8