This is our family's "go to" pasta. For some reason, we especially love to make it when we come home from traveling. There's something homey and grounding about this dish—with or without the sausage. The sauce and veggies are so flavorful, you won't be compromising one bit by making this meatless.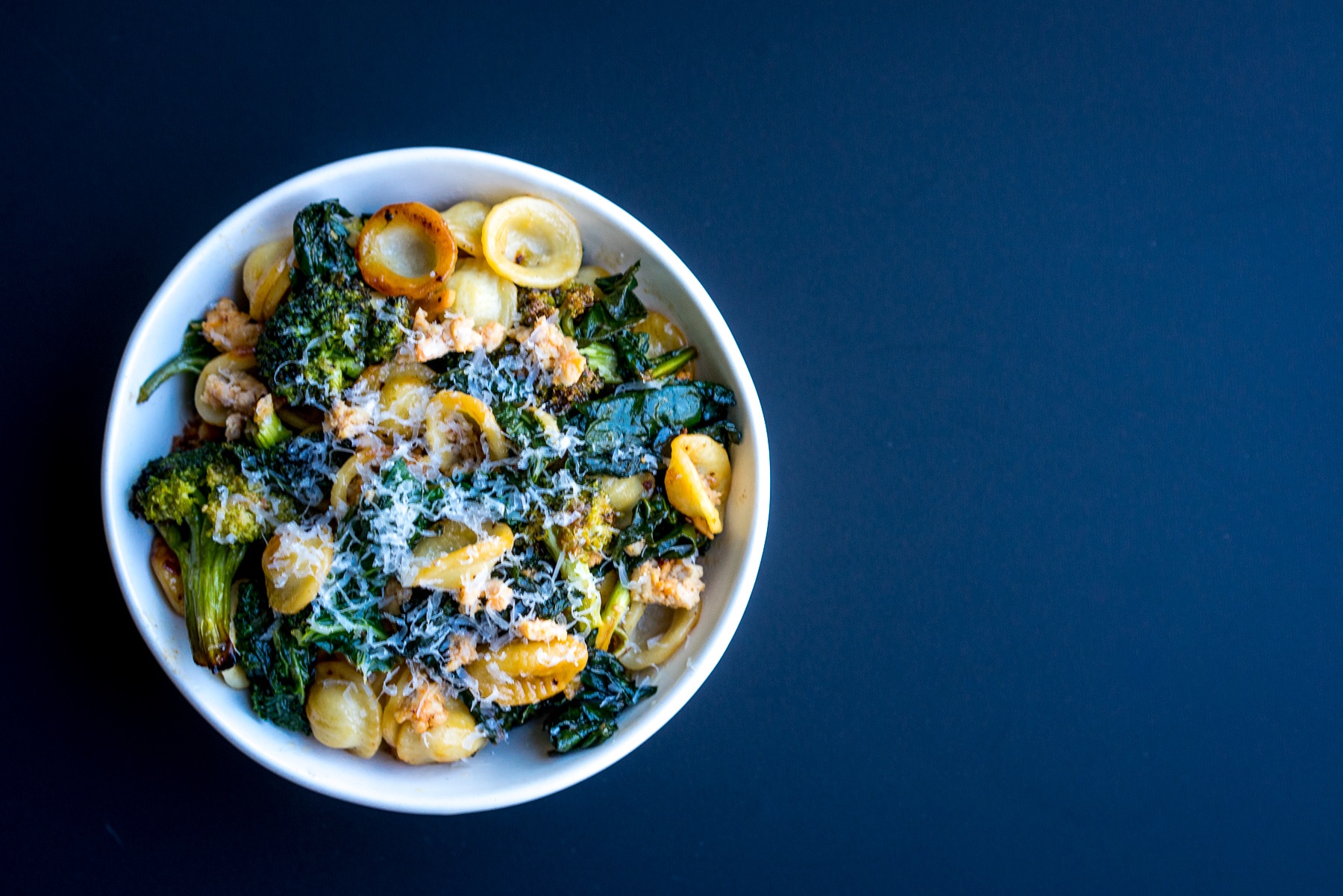 ½ pound orecchiette pasta
sea salt, to taste
1 spicy Italian sausage, removed from casing
½ recipe Roasted Broccoli with Chile, Garlic and Lemon Zest
½ recipe Braised Kale Trio
3 cloves garlic
¼ teaspoon red chile flakes
¼ cup extra virgin olive oil
2 tablespoons Awesome Veggie Broth or chicken broth
finishing salt (such as Maldon salt) or grated Parmigiano Reggiano cheese
Bring a large pot of water to a boil, adding a generous pinch of salt. Cook pasta according to package directions until al dente. Drain.
While pasta cooks, cook sausage in a skillet over medium heat until browned, breaking up into pieces with the edge of a spatula. Set sausage aside to drain on paper towel, reserving drippings in pan. Add broccoli and kale to pan, and cook over medium heat until heated through.
Mash the garlic to a paste in a mortar and pestle with a pinch of salt. Whisk in chile flakes, olive oil and broth. Set aside.
Add cooked pasta to pan. Toss with the garlic mixture over low heat. Add sausage and toss well.
Top with an extra dose of finishing salt or a sprinkle of cheese.
Serves 4