You've probably realized by now that we here at NOURISH Evolution love the itty mini dessert portions. And what's not to love? In this case, you get to have your luscious strawberry cheesecake — starring first-of-season berries — but in a perfect portion-controlled tartlet size. You can enjoy all of it too . . . without worrying about overindulging.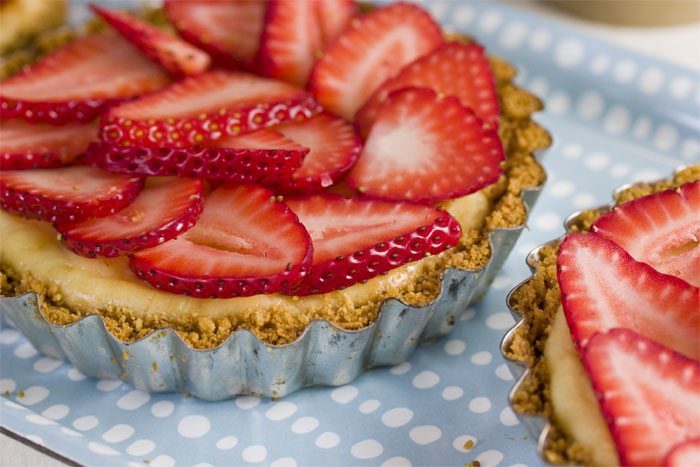 Cooking spray
1-1/2 cups graham-cracker crumbs, (about 8 graham crackers)
4 tablespoons butter, melted
1/2 cup reduced-fat sour cream
8 ounces neufchatel cream cheese
2 teaspoons freshly grated lemon zest
2 tablespoon freshly squeezed lemon juice
1/2 teaspoon vanilla extract
1 egg
1/4 cup sugar
1 cup strawberries, thinly sliced
Preheat oven to 350 degrees F. Spray 6 individual tart pans with removable bottoms with cooking spray (or one 6-inch springform pan).
Combine crumbs and butter in a small bowl and, using your fingers, press into the bottom and up the sides of pans.
Combine sour cream, cream cheese, lemon zest, lemon juice, vanilla, egg and sugar in a blender or food processor. Blend just until smooth. Pour into the crusts and place on a baking sheet. Bake 15-20 minutes, or until firm around the edges, but still slightly loose in the center. Cool completely on a wire rack. Then cover and chill.
Before serving, top with strawberries.
Notes
Cook Time 15-20 minutes
Serves 6