This chocolate biscotti recipe is infused with orange flavor. Much of the vitamin C from citrus is in the pith and peel which also contain its essential oils. Use a microplane grater to remove the fragrant zest, but not the bitter pith, from a well-washed Minneola. The zest and wine or liqueur lends an additional orange boost to these delicious anytime cookies.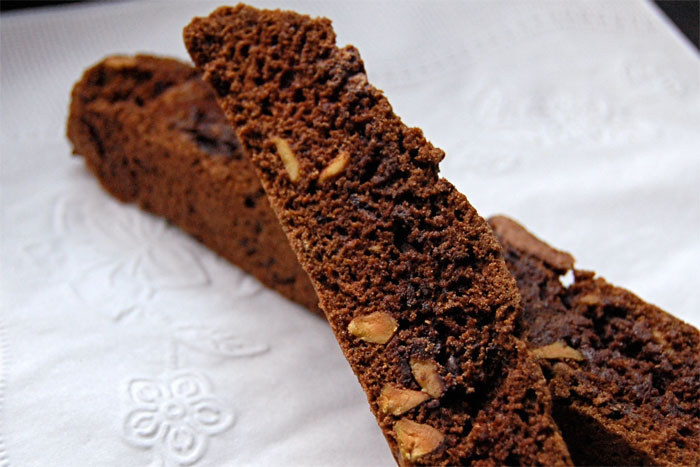 1-1/2 cups all-purpose flour
1/2 cup white whole wheat flour
1/2 cup unsweetened cocoa
1 teaspoon baking soda
1/4 teaspoon salt
1 cup sugar
6 tablespoons unsalted butter, softened
2 large eggs, room temperature
1 tablespoon Minneola zest
2 tablespoons orange Muscat dessert wine or orange liqueur
1 cup shelled pistachios
3 ounces semi-sweet baking chocolate, cut into pieces (about 1/2 cup)
Preheat oven to 350 degrees F. Line a baking sheet with parchment paper.
In a medium bowl, whisk together flours, cocoa, baking soda and salt.
In a separate large bowl, cream sugar and butter with an electric mixer until light and fluffy. Add eggs, one at a time, scraping down bowl as needed. Mix in zest and wine. Add flour mixture a little at a time, and then pistachios and chopped chocolate.
Form two flat logs about 12 x 2-1/2 inches on prepared baking sheet. Bake 25-30 minutes, until slightly firm.
Remove sheet from oven and cool for 10 minutes. Reduce oven temperature to 300 degrees F. Transfer logs to cutting board by lifting parchment, then slice logs into 3/4-inch slices. Line the baking sheet with new parchment and transfer biscotti, cut side down, onto the sheet. Bake until crisp, turning halfway through, about 10-15 minutes.
Cool completely on a wire rack.
Makes 36 biscotti