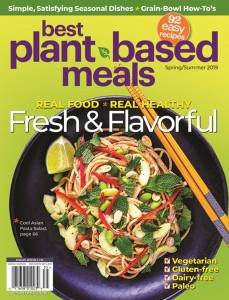 Super-easy, yet packed with flavor, this savory freeform cherry tomato tart works for a weeknight supper or entertaining. Be sure to save the liquid from the tomatoes — you can use it for dressing on a simple green salad to accompany.
MAY 2019 UPDATE: We're super-excited that this recipe is one of 92 you'll find in our new Best Plant-Based Recipes bookazine we've produced with AMG/Parade. Look for it at grocery stores and bookstores, or order your copy online here.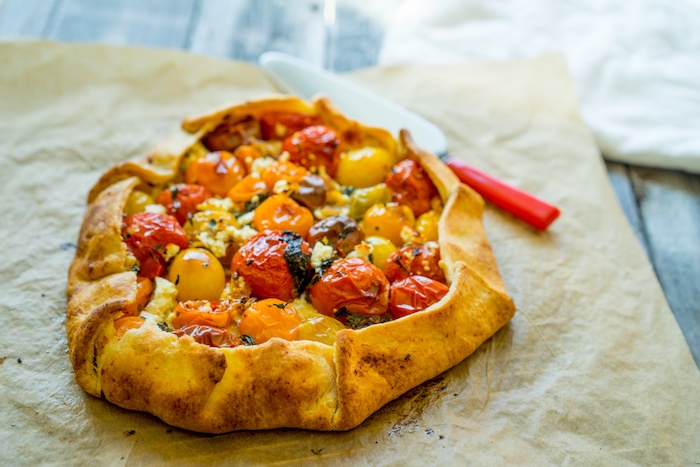 Cherry Tomato Galette
7 ounces refrigerated whole wheat pie dough (1/2 package)
3 ounces fontina cheese, grated (3/4 cup)
1 recipe Slow-Cooked Cherry Tomatoes
2 tablespoons feta cheese, crumbled [1/2 ounce]
1 tablespoon fresh thyme leaves
Preheat oven to 425°F. Place a baking sheet in the oven while it preheats.
Roll out the dough on a sheet of parchment paper. Sprinkle fontina on dough, leaving a 2-inch border around the edge. Drain the Slow-Cooked Burst Cherry Tomatoes, saving the liquid. Arrange the tomatoes over the cheese. Sprinkle with feta and thyme. Fold dough border over the topping, pleating the edges as you go. Brush edges of dough with the liquid from the tomatoes (reserve the remaining liquid to use for cooking or salad dressing — it has lots of flavor!).
Remove preheated baking sheet from oven and carefully transfer the tart to the baking sheet. Bake 20 minutes or until the crust is golden and the filling is bubbly. Let stand 10 minutes before slicing and serving.
Serves 4
Prep time: 15 min
Cook time: 20 min