Chard + orange + almonds is one very happy ménage à trois on a plate. Caramelizing the onions adds a touch of sweetness that helps the chard win over even those who claim to hate greens. It's a strategy you can use with any greens. If time is tight, simply sauté the onion until tender and proceed with the rest of the recipe.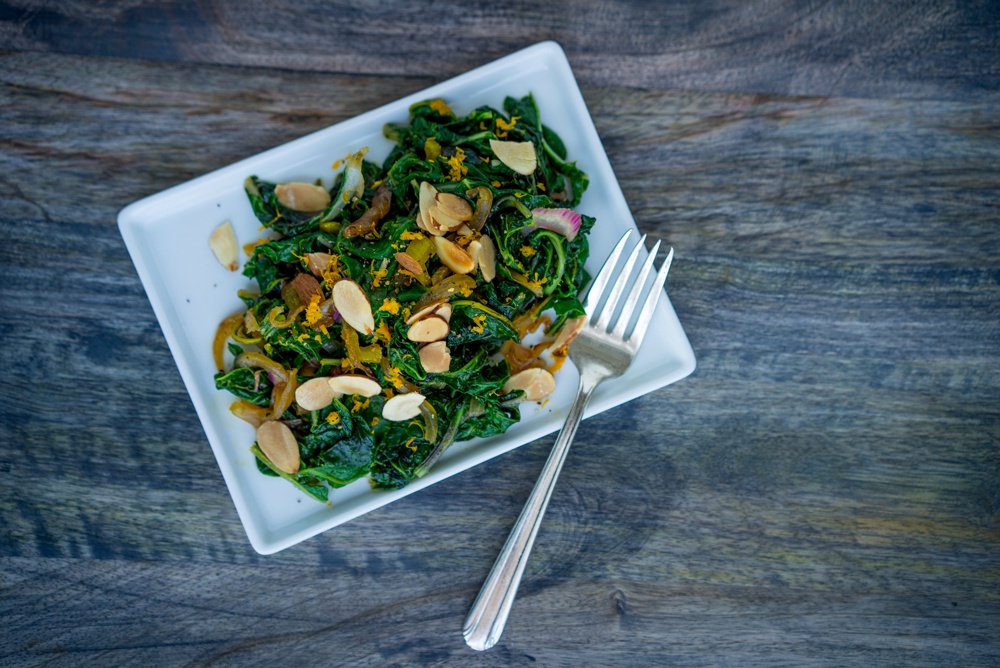 2 tablespoons extra virgin olive oil, divided
1/2 cup onion, thinly sliced
sea salt and freshly ground black pepper, to taste
2 pounds Swiss chard (or rainbow chard)
1 orange, zested and juiced
1/4 cup slivered almonds, toasted
Heat 1 tablespoon oil in a large sauté pan over medium-high heat. Add onion and a pinch of salt. Sauté 3 minutes. Add 2 tablespoons water. Cover, reduce heat to low, and cook 20 minutes, or until caramelized, stirring occasionally.
Meanwhile, zip leaves from chard stems, reserving stems. Wash leaves thoroughly, dry and tear into bite-sized pieces. Wash stems and thinly slice enough for ¾ cup.
When onions are done, uncover pan and raise heat back up to medium-high. Add remaining 1 tablespoon oil. Add chard in batches, tossing to coat, gradually adding all chard to the pan. Add chopped stems. Sprinkle with salt and pepper. Cook 3-5 minutes, or until chard is well wilted, stirring occasionally. Add juice to pan, cook 30 seconds, or until liquid evaporates. Remove from heat and stir in zest. Serve garnished with almonds.
Serves 4