This simple recipe highlights the natural sweetness in cherry tomatoes. Use a combination of colors, if you like. It's great as a side dish, over pasta, atop chicken or fish, or spooned onto grilled bread as an easy appetizer. And it's the star of our Cherry Tomato Galette. You can drain and use the oil for cooking or salad dressing.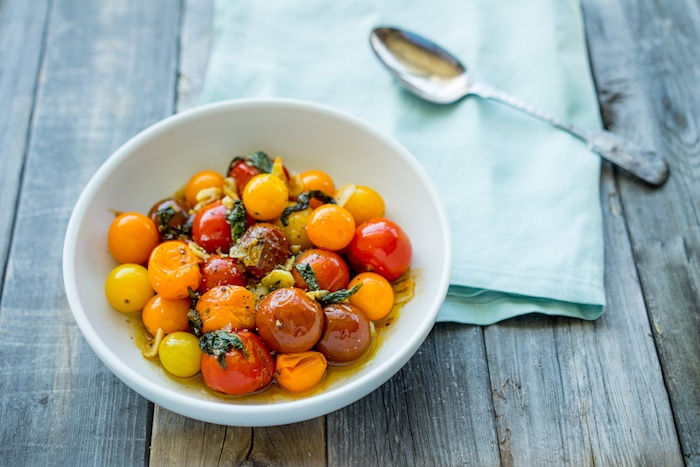 3 tablespoons extra virgin olive oil
1 pound cherry tomatoes
1 cup basil, whole leaves
3 garlic cloves, thinly sliced
sea salt and freshly ground black pepper, to taste
1 teaspoon balsamic vinegar
Flake sea salt, such as Maldon
Heat oil in a sauté pan over medium heat. Add tomatoes, garlic, basil and a pinch of salt, stirring to coat. Reduce heat to medium-low and cook 15-20 minutes or until tomatoes start to burst, stirring occasionally. Season to taste and drizzle with vinegar.
Serves 4 (yields 2 cups)
Prep time: 10 minutes
Cook time: 20 minutes