This recipe works wonders with the Valu-pak of frozen chicken thighs you bought last month at Costco (or was that me?). If you don't have smoked paprika on hand, just use a twist of freshly ground black pepper. Or experiment with other combinations of spices in your pantry. Serve over brown rice, whole wheat couscous or bulgur to soak up the flavorful juices.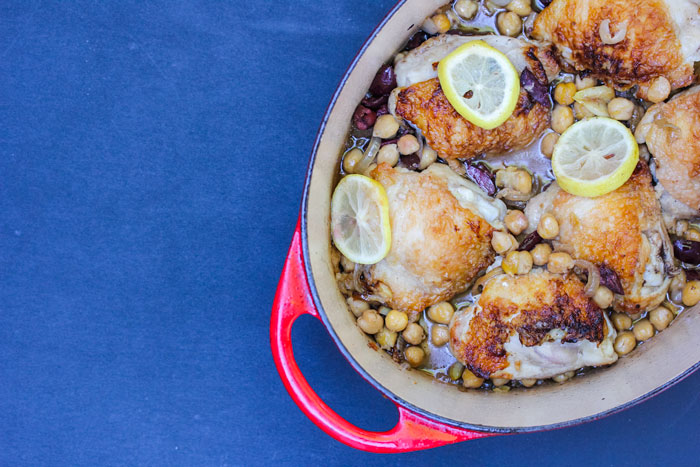 1 tablespoon olive oil
3 tablespoons all-purpose flour
1 tablespoon smoked paprika
3 pounds chicken thighs and legs
sea salt and freshly ground black pepper, to taste
1/2 cup onion, thinly sliced
1/4 cup sherry vinegar
1 (14-ounce) can diced tomatoes
1 cup chicken stock
3 cups cooked chickpeas
Heat oil in a Dutch oven over medium-high heat.
Mix together flour and paprika in a shallow bowl. Sprinkle chicken with salt and pepper, then dredge each piece in the flour, shake off any excess and add to the pan (be sure to leave a bit of space between the pieces for air to circulate, so work in batches if need be). Brown well on all sides, about 6 minutes total per batch. Remove from pan onto a plate as the pieces are browned.
Add onion to Dutch oven and sauté 4-5 minutes, or until tender and slightly browned. Pour in vinegar, scraping pan to loosen browned bits stuck to the bottom, and cook 1 minute or until liquid evaporates.
Add tomatoes and chicken stock to pan. Stir in chickpeas and bring to a boil. Place chicken on top of chickpeas and sprinkle with an additional pinch of salt and paprika. Cover, reduce heat to medium-low, and simmer for 40 minutes or until chicken is cooked through.
Serves 8