This luscious vanilla pudding is a lesson in why you should use organic milk and eggs in a custard. The USDA's 2011 decision to deregulate genetically engineered alfalfa raised concerns among organic dairy farmers, who rely on organic alfalfa to feed their herds. Certified organic fare–including milk and eggs–is still your best bet to avoid GMOs (genetically modified organisms). Heck, I even found GMO-free cornstarch to thicken this custard. And, of course, you'll want to use organic sugar, made from sugar cane to steer clear of sugar made from GE sugar beets.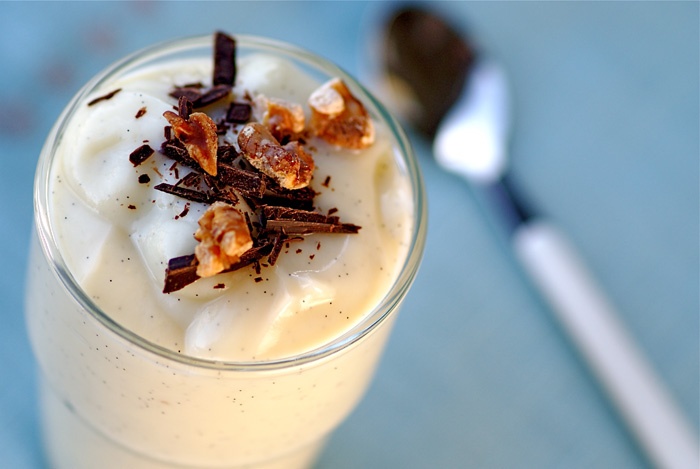 1/4 cup sugar, divided
1 whole vanilla bean
3 cups 2% low-fat milk, divided
3 tablespoons cornstarch
Pinch of sea salt
2 large egg yolks
Toasted walnuts, for garnish (optional)
Shaved dark chocolate, for garnish (optional)
Place 1/4 cup sugar in a medium saucepan. Slit vanilla bean in half lengthwise. Open the bean up and scrape the seeds from the bean using the back of a paring knife. Add the seeds to the sugar; rub the seeds into the sugar with your fingers (this helps disperse the seeds in the pudding). Whisk in 2-1/2 cups milk; add vanilla bean pod to pan. Place pan over medium-high heat and bring to 180 degrees F or until tiny bubbles form around the edge.
Whisk together the remaining 1/2 cup sugar, cornstarch and salt in a medium bowl. Whisk together the remaining 1/2 cup milk and yolks. Add yolk mixture to cornstarch mixture, whisking thoroughly to eliminate any lumps. Gradually whisk in half the hot milk mixture. Return egg-milk mixture to pan, whisking constantly. Bring to a boil, and cook 2 minutes or until thick, whisking constantly.
Scrape pudding into a clean bowl; discard vanilla bean pod. Fill a larger bowl with ice water. Set pudding-filled bowl in ice bath; cool to room temperature, stirring occasionally. Cover surface of pudding with plastic wrap, and chill. Serve garnished with toasted nuts and shaved chocolate.
Makes 6 serving