This baked beans recipe is an (updated) old Mack family favorite. Now, it's one of the staples our friends look forward to at Huber gatherings. It has a long list of "goes with" … hot dogs, hamburgers, roast pork, barbecued chicken. You name it. Honestly, these baked beans make a meal in and of themselves. They also freeze really well, which makes them ideal to pull out for camping or ski trips, when we know we'll be feeding a crowd.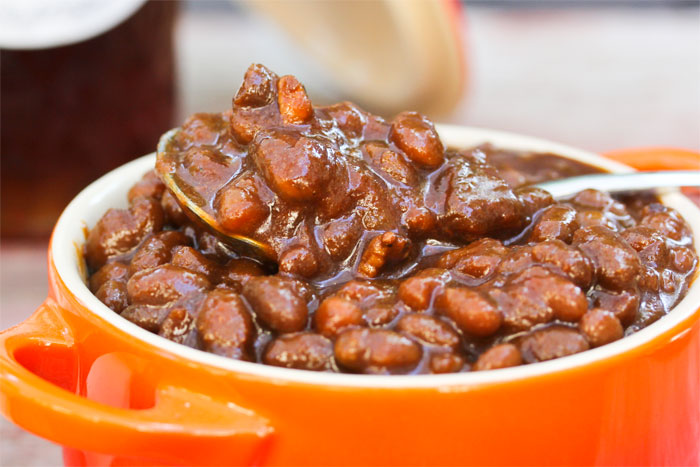 2 pounds dried cannellini beans
8 ounces center-cut bacon, cut crosswise into 1/2-inch strips
2 medium onions, diced
1-½ cups molasses
1-½ cups ketchup
½ cup honey
2 tablespoons garlic powder
1-½ tablespoons dry mustard
1 tablespoon sea salt
1 teaspoon ginger
2 teaspoons cinnamon
1 teaspoon allspice
1/2 teaspoon nutmeg
Soak cannellini beans in cold water over night and drain. Place beans in a large pot, cover with cold water by 2 inches, and bring to a boil. Lower heat and simmer for 1-1/2 hours, until just softened. Drain and reserve liquid.
While beans are boiling, brown the bacon and onion in a large skillet for 15-20 minutes, until both are deep golden brown. Spoon off excess fat. Pour 1/4 cup cold water into pan and scrape up anything stuck to the bottom. Remove from heat.
Pour beans into a slow cooker. Add bacon mixture and remaining ingredients and stir to mix well. Pour enough of the reserved cooking water to cover beans by 1/2 inch. Stir again. Cook on high for 6 to 8 hours (add more cooking water if beans look dry and cracked).
Note: If not using a slow cooker, cook in a Dutch oven (you can sauté the bacon and onion in the same pot) at 250 for 6-8 hours, until beans are tender and deep brown.
Serves 32
Prep time: 15 minutes
Cook time: 7 hours