This is an ultimate summer steak salad, full of ingredients just begging to be picked up fresh at the farmers' market. It's a hearty dinner salad, but also makes great potluck or picnic fare.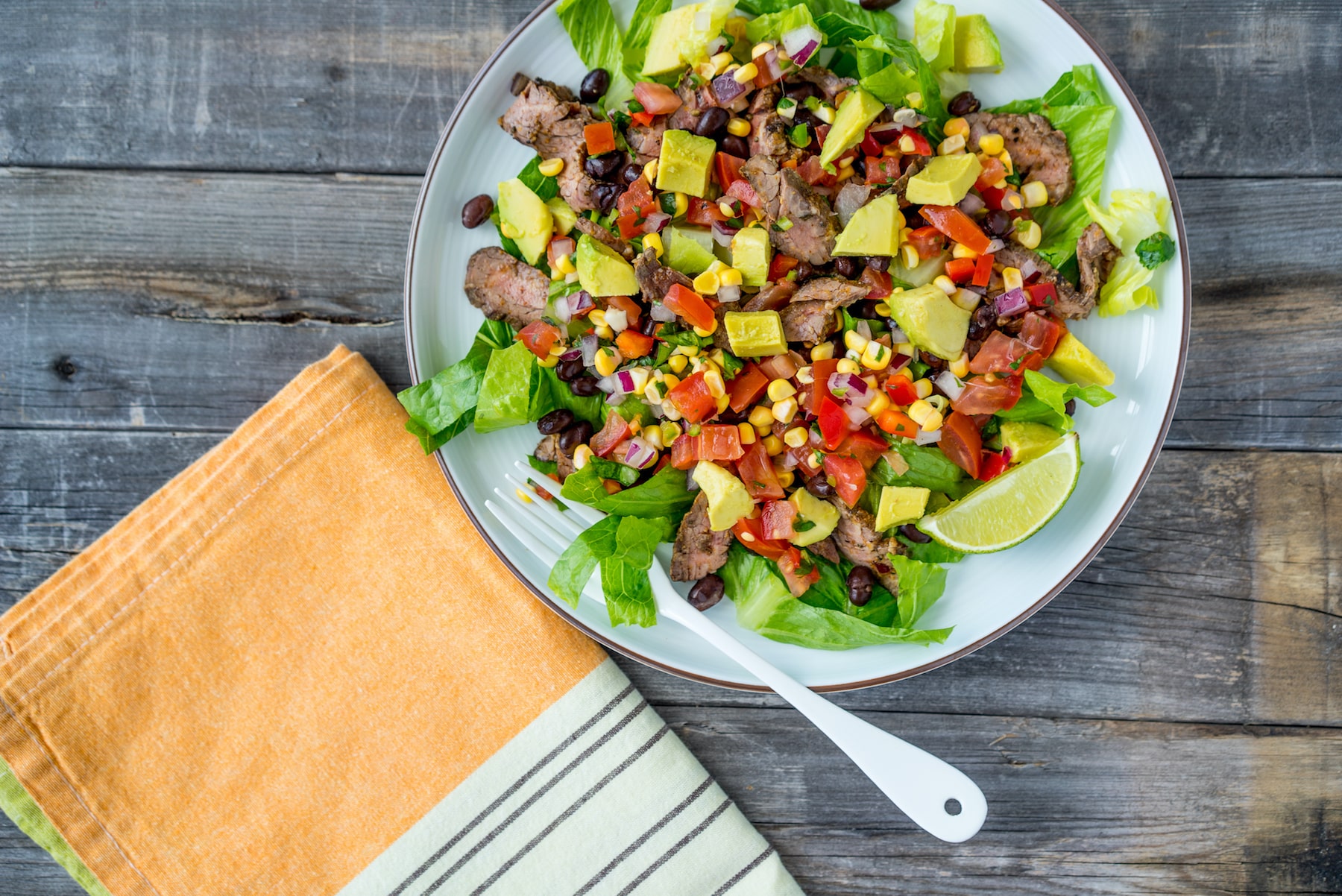 Steak:
1 tablespoon onion powder
1-1/2 teaspoon kosher salt
1 teaspoon ground cumin
1 teaspoon ground cayenne pepper
1 teaspoon oregano
3/4 pound flank steak
Salsa:
2 jalapeno peppers
2 ears of corn, shucked and cut in half
2 red bell peppers
1/2 cup chopped scallion
1/2 cup finely chopped fresh cilantro
1 tablespoon fresh-squeezed lime juice
Sea salt, to taste
Remaining Ingredients:
6 cups thinly sliced romaine lettuce
2 cups canned black beans, drained
2 avocados, diced
2 cups chopped tomatoes
Heat grill to medium-high.
To prepare steak, combine onion powder, salt, cumin, cayenne and oregano in a small bowl, and rub into both sides of steak. Sear steak 8-10 minutes, turning once, until medium-rare. Transfer to a platter and cover with foil. Let rest for 10 minutes and then slice thinly, on a bias, against the grain.
To prepare salsa, grill jalapenos, corn and bell peppers, turning occasionally. Remove jalapenos and corn to a cutting board when tender and slightly charred. Continue cooking bell peppers until well charred on all sides. Remove from grill and place in a paper bag.
Slice off corn kernels and transfer to a medium bowl with the scallion and cilantro. Chop jalapeno and add to bowl. When bell peppers are cool enough to handle, remove the charred skin, stem and seeds. Chop peppers and add to salsa with lime juice. Salt to taste.
To serve, divide lettuce among 4 large plates. Arrange beans, avocado, tomatoes and sliced steak over lettuce and top with salsa.
Serves 4