Perked up with chard and Italian sausage, this white bean soup recipe straddles the line between fresh and green and rich and hearty. So much so, in fact, that it would be perfectly appropriate in any season.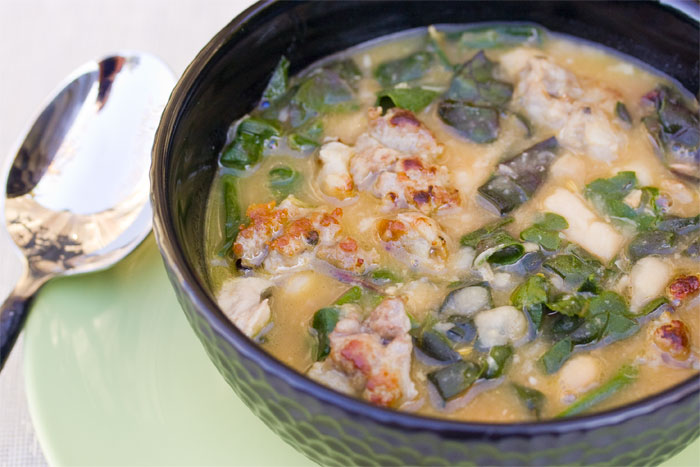 4 cups cooked white beans
1 quart chicken broth (try our recipe for homemade chicken stock)
½ teaspoon red pepper flakes, (optional)
2 links fresh Italian sausage, removed from casing
2 bunches Swiss chard, zipped, cleaned and chopped (about 12 cups) (here's how to zip greens in a flash)
1 tablespoon extra virgin olive oil
4 cloves garlic, peeled
sea salt and freshly ground pepper, to taste
Brown sausage over medium heat in a Dutch oven or large, heavy-bottomed pot, breaking it apart into small bits with the edge of a stiff spatula. Remove the sausage to a paper towel-lined plate and leave 1 teaspoon of fat in the pot.
Add the chard to the pot and toss to coat with remaining fat. Cook for 5 minutes, until chard is well wilted.
Pour in olive oil. Grate the garlic onto the chard, sprinkle with salt and pepper, and toss several times to distribute the garlic and coat the leaves evenly. Cook for 2-3 minutes more, until chard is wilted and garlic is fragrant. Remove chard to the plate with the sausage.
Add beans and broth to the pot and bring to a simmer over medium heat. Mash beans slightly with a potato masher.
When soup is heated, stir in sausage and chard and serve.
Serves 4